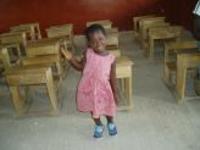 Every year, during the holiday season, Stanacard will pick a good cause to support
New York (PRWEB) December 10, 2009
Stanacard, a leader in low-cost international calling, will join a project to build a new school classroom in Ghana, by donating 10% of all profits for the month of December 2009. The project, in Kpando-Konda, Ghana, will build a classroom with teaching materials.
By expanding the Donum Dei International School, this campaign will give many underprivileged children an education they might otherwise not receive. More information about the school's history and plans is online at the Donum Dei Web site.
"Every year, during the holiday season, Stanacard will pick a good cause to support", said Anastasia Koroleva, Stanacard CEO. "As a leader in low-cost international calling, and with many customers who use Stanacard to make cheap calls to Ghana, this school-building project seemed a very fitting way for us to make a difference."
Founded in 2004, Stanacard has become one of the world's leading providers of international calling. With its patented 'SmartDial' technology, it allows users to make international calls directly from their mobile phones – but without paying high rates to their mobile carrier.
To learn more about Stanacard's services and calling rates, visit http://www.stanacard.com.
# # #