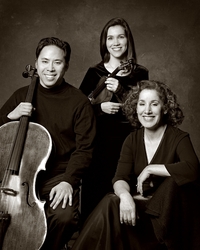 Nashville, TN (PRWEB) December 10, 2009
The Blakemore Trio and esteemed NY composer/soprano Susan Botti will give the world premiere performance of "Gates of Silence" on Friday, February 19, 2010 at 8:00 p.m. in Ingram Hall at Vanderbilt University's Blair School of Music in Nashville.
The New York premiere will follow on Saturday, March 13, 2010 in Merkin Concert Hall at the Kaufman Center in New York City.
Vanderbilt University's Blakemore Trio (violinist Carolyn Huebl, cellist Felix Wang, and pianist Amy Dorfman) commissioned Gates of Silence as a part of an ongoing commissioning project entitled, "The Blair Commissions: Music for the 21st Century," funded by the James Stephen Turner Family Charitable Foundation for Vanderbilt University's Blair School of Music. Composer Peter Schickele's work, "A Year in the Catskills," the first in the Commissions Series, was premiered by the Blair Woodwind Quintet in the spring of 2009. Future commissions for the Blair String Quartet and others will be announced in coming years.
"The Blair Commissions will serve, we hope, two intertwined missions: promote the composition of outstanding works by the world's leading composers, and to invite attention to the excellent ensembles and faculty members of the Blair School at Vanderbilt University," said Mark Wait, dean of the Blair School.
"The collaborative process for "Gates of Silence" has been extraordinary, and we are honored to work with a composer and musician of Ms. Botti's caliber," said Ms. Huebl. "All members of The Blakemore Trio are proponents of new music, so we were appreciative of this opportunity to be a part of such an important project."
Ms. Botti's piece "Gates of Silence" is a set of three compositions: "Lament: The Fallen City" for violin and piano; "The Journey without Her" for piano trio; and "Dido Refuses to Speak" for piano trio and soprano with text by Linda Gregerson, National Book Award Finalist and Caroline Walker Bynum Distinguished University Professor at the University of Michigan. Inspired by Virgil's Aeneid, each composition is connected by experiences of loss, renewal, hope and continuation.
"While conceptualizing this piece, I read a description of the fall of Troy, and then I would pick up the newspaper and read about the destruction of Baghdad or the devastation of a small town in Oklahoma after a storm," explains Ms. Botti. "The ability of people to pick themselves up, find hope and move forward after such devastation really inspired me."
Staging and set design will be by consultant Leslie Taylor.
Tickets to The Blakemore Trio's world premiere performance of "Gates of Silence" in Nashville are free but must be reserved in advance by calling 615-322-7651. A pre-concert discussion with Dean Wait, Ms. Botti and Ms. Gregerson will take place at 7:15 p.m. in Ingram Hall.
Tickets to the New York premiere at Merkin Hall are $25 and can be purchased by calling 212-501-3330 or by visiting http://kaufman-center.org/merkin-concert-hall/buy-tickets. Discounts are available for students, Vanderbilt and Manhattan School of Music faculty, staff, and alumni, and senior citizens. Merkin Concert Hall is located in the Kaufman Center, part of the Lincoln Square business district just north of Lincoln Center, at 129 West 67th Street, New York, New York.
Biographies
Blakemore Trio
Crossing paths as faculty members at Vanderbilt University's Blair School of Music in Nashville, violinist Carolyn Huebl, cellist Felix Wang and pianist Amy Dorfman established the Blakemore Trio in 2002. Critically acclaimed for their performances as individuals, this captivating ensemble has been showcased on chamber music concerts across the country. Their special affinity for contemporary music has inspired them to include the commission and performance of new works as part of their mission. Recent seasons have featured world premieres of Sound and Fury by Paul Osterfield, and Qu Yuan by Taiwanese composer Shueh-Shuan Liu, in addition to upcoming premieres of Susan Botti's Gates of Silence in Nashville and New York City and a 2011 premiere of a Trio by Adam Schoenberg. For more information about The Blakemore Trio, visit: http://www.vanderbilt.edu/blakemoretrio.
Susan Botti, Composer and Singer
As both a composer and a singer, Susan Botti's eclectic background and experiences are reflected in her music. Awarded a Guggenheim and the Rome Prize in the same year, Ms. Botti was in residence at the American Academy in Rome during the 2005-2006 season. She was also the 3rd Daniel R. Lewis Young Composer Fellow with the Cleveland Orchestra from 2003-2005. In addition to her works Impetuosity and Translucence, which were commissioned and premiered by the Cleveland Orchestra, other notable compositions include Cosmosis (for wind ensemble, soprano soloist, and women's voices), commissioned by a consortium of universities and premiered at Carnegie Hall in 2005, and EchoTempo (for Soprano, Percussion & Orchestra), commissioned and premiered by the New York Philharmonic, among many others. Ms. Botti is currently a member of the Composition faculty at the Manhattan School of Music in NYC. For more information about Susan Botti, visit: http://www.susanbotti.com.
# # #