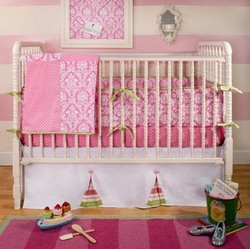 San Diego, CA (PRWEB) December 14, 2009
Cuddles Kids Bedding Boutique, a leading online retailer of infant and children's bedding, is excited to announce its store expansion! This expansion enables us to offer a wider range of quality and unique products to ensure a more complete shopping experience. Cuddles Kids Bedding Boutique specializes in nursery, kids and teen bedding, room décor and accessories from the finest designers in the industry. By expanding many product categories such as organic baby bedding, baby gifts, children's gifts, nursery and child health and safety products, the goal of providing a pleasant and fulfilling shopping experience for each customer becomes possible.
Cuddles Kids Bedding Boutique takes pride in carefully selecting the highest quality products to ensure that customers only receive the best. Cuddles Kids Bedding Boutique operates from a position that quality is most importantly defined by the workmanship, design and delivery of each product. It is important that the customers shopping experience to be effortless, pleasant and complete. Striving for excellence in all aspects of the shopping experience is the primary goal. Therefore having a wide range of products that serve a range of purposes such as designing of a child's new, perfect room, decorating a baby's nursery, looking for the perfect baby shower gift or locating a product to make a busy parents life a little easier is important and a never ending objective.
Cuddles Kids Bedding Boutique is thrilled to showcase organic baby products from top designers such as Baby Star, Cotton Monkey, and Eco Baby. The organic baby bedding section offers a fabulous array of organic bed linens, layettes, baby blankets and baby gift sets. Organic baby products make perfect baby shower gifts. But why stop there? Also expanded is the baby nursery baby nursery section to include luxe blankets, baby swaddle wraps and baby sleep sacks from designers Ally Zabba and Aden and Anais. Just in time for the upcoming holidays, these luxurious products are perfect when only the best will do. For bigger kids, the children's gifts section has also been expanded our children's gifts to offer a larger selection of adorable kids products such as the Cricketzzz lush, minky sleeping bags in a full array of colors and fabrics. Choose from so many styles, sure to please any little girl or boy.
Cuddles Kids Bedding Boutique has always offered a large selection of girls bedding and boys bedding, but by adding to the nap mats and sleeping bag sections, many more fun and fabulous sleep options are now available for kids. Soon to come will be a full line of wall art products from well known manufacturer 4 Walls. Wallies allow a child to create a fun and unique room theme they would be proud to call their own. In the health and safety category adorable plate and placemat sets from manufacturer Olive Kids have been added. These fun and colorful plate sets come in great designs such as dinosaur, mermaids, construction themes, sports, pirate theme and so many more. These plate sets make the perfect child birthday gift or serve as a great motivator for a picky eater.
Cuddles Kids Bedding Boutique is constantly growing and expanding! Stay tuned as the expansion continues with the addition of with many more great, quality products lines. Cuddles Kids Bedding Boutique constantly strives to provide the best and be the best in the industry.
Cuddles Kids Bedding Boutique can be found at http://www.cuddleskidsbedding.com or by phone at 619) 504-1472.
###