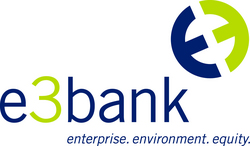 "In spite of all the turmoil in the financial services market, we continue to receive scores of inquiries every week from future customers who want to know when they can bank with us - a resounding validation of our values, our business model and our mark
Malvern, PA (PRWEB) December 11, 2009
e3bank's Chairman Sandy Wiggins and President/CEO Frank Baldassarre today announced tactical changes to their business plan in order to comply with the changing regulatory environment, which will have a direct effect on the bank's current equity investment offering. In accordance with the bank's guiding principle of Transparency, e3bank will be closing the current escrow account and will be refunding the full amount of peoples' subscriptions with interest before reorganizing and commencing a new amended offering.
"We have decided to withdraw our current capital campaign due to modifications that we are making to our business plan," said Baldassarre. "These modifications reflect extensive discussions with the regulatory agencies and our advisors regarding the new de novo bank process. e3bank is not changing our mission, products or our delivery system."
e3bank currently anticipates starting a new equity offering in the New Year once amending the Offering Circular to reflect changes in the application, and are targeting being able to commence operations by the end of the second quarter of 2010.
"Since we started this journey early in 2008, we have witnessed historic changes in the economy, the financial services sector, and the regulatory landscape," added Wiggins. "In spite of all the turmoil in the financial services market, we continue to receive scores of inquiries every week from future customers who want to know when they can bank with us - a resounding validation of our values, our business model and our market potential."
Upon opening, e3bank will focus its business efforts primarily in the metropolitan Philadelphia region. The mission of e3bank is to create and deliver financial tools and services that build stakeholder prosperity and catalyze change toward a more sustainable world while delivering returns in each domain of the triple bottom line. e3bank will serve people and businesses who want to have a positive, greener and healthier impact on the world by empowering its customers to achieve their financial goals, save resources, reduce waste, and build social equity.
e3bank plans to have retail locations in the Philadelphia area, as well as a dynamic website offering innovative triple bottom line financial products and services for businesses and consumers.
For details on e3bank, please visit http://www.e3bank.com.
###