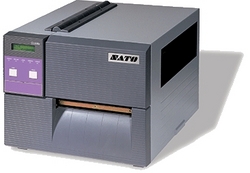 "qdata continues to be the Canadian leader in data collection solutions by offering extensive and reliable service capabilities, professional services, and a diverse set of hardware and software offerings."
Toronto (PRWEB) December 12, 2009
qdata, an Industry Leader in Bar Coding, RFID and Wireless Solutions, and SATO, a pioneer in the Automatic Identification and Data Collection (AIDC) industry and a leader in barcode printing, labeling, and EPC/RFID solutions, announced today a partnership enabling qdata to service and resale SATO products to the AIDC community.
"Our service team's portfolio is continually growing and reflects the latest industry training and certifications. We recently completed service certification on SATO's industrial printing line." said Tony Mastrangeli, VP of Operations, qdata. "qdata continues to be the Canadian leader in data collection solutions by offering extensive and reliable service capabilities, professional services, and a diverse set of hardware and software offerings."
"Widening our partner relationships and regionally offering the very best in business partner relationships that bring value add solutions to customers, SATO America is truly honored to have qdata and its' team of qdata professional's join our regional community of partners" said Gary Krause, SATO America's Marketing Director.
About qdata
qdata is a leading international integrator of bar coding, RFID and wireless solutions. With over 4,000 installations across North America, qdata has earned the reputation of delivering innovative and powerful solutions that generate a high return on investment. From simple bolt-on products to enterprise-wide systems, qdata has the skills and experience to deliver solutions tailored to your specific needs on time and on budget. For more information, visit http://www.qdata.com.
About SATO
SATO is a pioneer in the Automatic Identification and Data Collection (AIDC) industry and the inventor of the world's first electronic thermal transfer barcode printer. It revolutionized the barcoding industry by introducing the Data Collection System (DCS) & Labeling concept – a total barcode and labeling solution providing high quality barcode printers, scanners/hand-held terminals, label design software and consumables. SATO is one of the first in the industry to introduce a complete, multi-protocol EPC-compliant, UHF RFID solution.
SATO is publicly listed on the first section of Tokyo Stock Exchange in Japan. It has worldwide offices in the United States, Belgium, France, Germany, Spain, United Kingdom, Poland, Singapore, Malaysia, Australia, New Zealand, Thailand and China. For the fiscal year ended March 31, 2009, it reported revenues of US$776 million.
Media Contact
Sarah Kirk, Marketing Manager - qdata
Phone: 1.905.477.1367, extension 2298
# # #