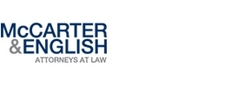 We congratulate Greg on his appointment
Boston, MA (PRWEB) December 11, 2009
The U.S. Commission on Civil Rights recently appointed McCarter & English attorney, Gregory D. Cote, as a member of its Massachusetts State Advisory Committee. Congress has directed the Commission to establish advisory committees in all states and the District of Columbia to assist in its fact-finding function. These committees receive reports, suggestions, and recommendations from individuals, public and private organizations, and public officials, and forward advice and recommendations to the Commission. Members of State Advisory Committees serve without compensation, conduct civil rights reviews and investigations, and report to the Commission. The Massachusetts panel consists of 16 members. All appointments are for two years.
"We congratulate Greg on his appointment," said Burt Winnick, Boston office managing partner. "With Greg's background in litigating civil matters and knowledge of constitutional law, I think he will bring a keen perspective to the committee to ensure that civil rights for the people of Massachusetts are protected and preserved."
Mr. Cote is a member of the firm's Business Litigation group, where he represents both small and large businesses and occasionally individuals in both federal and state courts throughout the country. His practice concentrates primarily on hospitality, employment, civil rights, contracts, unfair and deceptive conduct, class action, private property rights and appellate litigation.
He recently defended Vanessa Klein, a former employee of Compass Group USA, Inc., in a prisoner civil rights claim tried to a jury in the United States District Court for the District of Arizona. The case, Jenghiz K. Stewart v. Canteen Food Service et al. involved a constitutional claim under the First Amendment based on the prisoner's religious diet. The successful defense verdict issued on June 11 followed a week-long trial and concluded a four-year legal battle, barring an appeal.
Mr. Cote presently serves as the vice-chair of the Boston Lawyers Division of the Federalist Society for Law and Public Policy Studies. He is also a member of the executive committee for the Federalist Society's Litigation Practice Group.
About McCarter & English
McCarter & English, LLP, established more than 160 years ago, represents Fortune 500 and middle-market companies in their national, regional and local litigation and on important transactions. Its 400 attorneys are based in offices in Boston, Hartford, New York, Newark, Philadelphia, Stamford and Wilmington. http://www.mccarter.com
About the U.S. Commission on Civil Rights
The U.S. Commission on Civil Rights is an independent, bipartisan agency charged with monitoring federal civil rights enforcement. Members include Chairman Gerald A. Reynolds, Vice Chair Abigail Thernstrom, Commissioners Todd Gaziano, Gail Heriot, Peter N. Kirsanow, Arlan D. Melendez, Ashley L. Taylor, Jr., and Michael Yaki. Martin Dannenfelser is the Staff Director. Commission meetings are open to the general public. The Commission's website is http://www.usccr.gov.
# # #