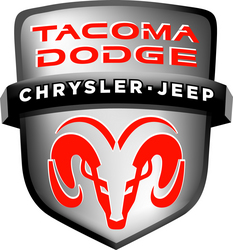 "The termination and temporary absence of the Dodge, Chrysler and Jeep franchises in the Tacoma market was tragic," states Bivens, "but I'm glad that we were able to work out a deal to put all three of these brands right here in the previous Tacoma Dodge
Tacoma, WA (PRWEB) December 10, 2009
The new Chrysler Group has awarded and issued final approval of the Dodge, Chrysler and Jeep franchises for the Tacoma market to Phil Bivens, effective immediately.
Approximately seven months ago, Chrysler notified 789 Chrysler, Jeep and Dodge dealers from around the country that their franchises would be terminated as part of Chrysler's Chapter 11 bankruptcy reorganization. According to Chrysler and the U.S. Government, these specific dealership terminations were needed to ensure Chrysler's revival and long-term viability.
"The termination and temporary absence of the Dodge, Chrysler and Jeep franchises in the Tacoma market was tragic," states Bivens, "but I'm glad that we were able to work out a deal to put all three of these brands right here in the previous Tacoma Dodge location."
Bivens and his management team have pulled together a superior staff consisting of over 50 employees for start-up. Many of these employees were retained from the former Tacoma Dodge dealership. Staffing levels are expected to be in excess of 75 by the end of the first quarter 2010.
Phil Bivens, who lives in Northeast Tacoma, also owns Auburn Chevrolet, Enumclaw Chrysler Jeep Dodge and a General Motors Accessory Distributorship that has exclusive GM distribution rights to nearly 170 GM dealers in the Northwest. Phil's wife, Kerry Bivens, owns and/or operates Toyota of Puyallup, Scion of Puyallup and Kia of Puyallup.
Together, the organization employs 325 people and will sell in excess of 8,000 new and pre-owned vehicles in 2010 across ten franchises at five different locations.
Tacoma Dodge Chrysler Jeep is located at 4101 S. Tacoma Way, Tacoma, WA 98409. Phone: 253-475-7300 or tacomadodge.com
###