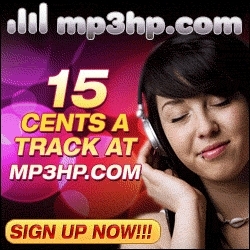 Music washes away from the soul the dust of everyday life. ~Berthold Auerbach
Los Angeles, CA (PRWEB) December 28, 2009
MP3 music dominance is the only goal on the minds from the folks at Mp3hp.com, an online music store that operates by individual purchase amounts which provides credit to be used towards any music of a users choice, and it keeps getting hotter in 2010.
Introducing its newly updated music download site providing an abundant variety of music at excellent prices. Over 6 million MP3 music tracks available to download to a users iPod or other mp3 music player; their music library increases daily, making it possible to find any track or album users can think of. The growing interest in music downloads and the increasing desire to pay less for them has motivated them to create this site.
Mp3hp.com provides all types of MP3 music to the public for a fraction of the cost consumers would normally pay. New releases, Old releases, Bestsellers. With 6 million songs to choose from, the site provides all.
The site successfully provides mp3 music downloads through industry leading solutions at lower prices and less confusing than its competitors starting at just $0.79 cents. The iPod never had it so good. The site has been in the business for many years and has been a dominant leader in the music industry since the beginning. Successfully provides mp3 music downloads through industry leading solutions their site makes music easily affordable for people who love music.
They are all about customer experience, and their broad offering of entertainment to music lovers all over the world is honorable. This easy to use site will no doubt help stimulate the MP3 music download industry throughout the world.
Upcoming:
MP3HP.com will be unveiling its mobile version of their site. This will allow users to browse, purchase, and download MP3 music to their iPods and other mp3 devices. As the technology continues to grow, computers will be used significantly less to complete daily or basic tasks online. The site admin have still yet to announce the release date of this new website integration.
The site announces that they will soon be integrating ringtones in early 2010 – suspected to be priced around $0.50 cents each. That's about 1/10 of the cost some cellular providers seems to be charging.
Current Holiday specials from available:

Users receive a $25 cash deposit bonus when they deposit $25 into their account on Mp3hp.com before the holiday is over.
$0.15 cent promotion on all 6 million+ mp3 tracks for the Holiday season.
About MP3HP.COM:
Users purchase funds with a Credit Card to add to their account balance, and simply use these funds to purchase mp3 music tracks or albums. The funds purchased become instantly available after a credit card transaction, and remain available indefinitely for future use.
Many downloads sites will restrict the download bandwidth consumers are allowed to use, but it seems that the server infrastructure can handle it, thus their servers allowing unlimited bandwidth for its users.
Online Security – Security is always important when visiting a website, especially when thinking about making a purchase with a credit card online. MP3HP.com is using Comoad for its SSL security on the "Hackerproof" scanning routine. This ensures that site content is not able to be hacked, which protects music, keeping them virus-free. 256-bit encryption is used when processing purchases. This also includes additional Identity insurance up to $10,000.
Download Flexibility - If users don't want to work with Zip files and enjoy downloading each file individually; or vice versa. Their downloads page has either option conveniently available for a user of the site. Many other music download sites require downloading of each track individually, or only allowing downloading of Zip files, which really becomes a nuisance.
Enjoy an online MP3 music shopping experience like no other and let the music soothe the soul.
For more information, or to request an interview please contact: Alex Nevsky | 212-761-3031 | MP3HP.COM
# # #