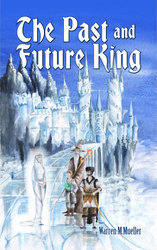 The tale that follows is filled with mythical creatures and delicious descriptions as a fresh and unique foray into the world of Tolkien and Lewis.
Edwardsville, IL (PRWEB) December 12, 2009
The Past And Future King is the first book of an epic trilogy by Warren M. Mueller. It will be released by The American Book Publishing Company in January 2010.
Enter a world where people do not believe in fantasy but where each night their spirits travel to a parallel earth shifted in time and inhabited by elves, trolls, fairies and other mythical creatures. Just like dreams, these people have little or fuzzy memories of their nightly travels in the realm of fantasy. However, one summer night something strange happened that changed all this and signaled the merger of the world of fantasy and reality.
The Past And Future King is about an ordinary lad named Tom who has an unusual love of reading. He befriends an old scribe named Willet who introduces him to fantasy books which are generally frowned upon in Tom's village. Soon the images in these fantasy books begin to captivate Tom until he is directed by Willet to visit a lake near his village where Tom sees himself drown in a recurring dream. Tom is threatened by wolves and decides to jump into this lake where he is drawn into a vortex and enters a parallel earth where dreams become reality. In this world, Tom is helped by elves and he is given a magical stone to help him fulfill ancient prophesies about becoming a Son of Light. According to these prophesies, the Sons of Light herald the merger of the parallel earths to form one new one in which The Past And Future King will return and evil will be vanquished forever.
The Past And Future King is Warren 's second published book by the American Book Publishing Company. Warren is a Christian author of fiction and non-fictional articles and books. Warren's first published book, Truth Seeker: Straight Talk From The Bible, is a concise summary of what the Bible says about over thirty practical living and theological subjects with lots of Bible quotes. His articles are featured on the New York Times About Christianity and Christian Pulse web sites.
Pre-release copies of The Past And Future King are available online at http://www.pdbookstore.com/comfiles/pages/WarrenMMueller.shtml
For more information about me and the books and articles I have written, please go to my web site at http://www.warrenmueller.com
# # #