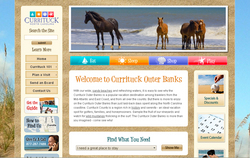 The new design is offering visitors a more interactive experience and is making it easier for them to navigate the site
Moyock, NC (Vocus) December 11, 2009
The Currituck County Department of Travel and Tourism is excited to announce the launch of its newly designed tourism website, http://www.CometoOurBeach.com. The new site went live earlier this week and replaced a site that had been in existence since 2004.
The improved website features expanded content with plentiful information about the area's attractions, restaurants, shopping and events. It also incorporates easy-to-use tools to help potential vacationers with trip planning.
"The new design is offering visitors a more interactive experience and is making it easier for them to navigate the site," said Stuart Chamberlain, Web Development Specialist for the Tourism Department. "For example, the 'Find What You Need' feature offers suggestions on places to eat, sleep, dine and play. Improved mapping and a more detailed description for each business is giving potential visitors the information they need to plan a vacation to the Currituck Outer Banks, explained Chamberlain.
In addition to the 300+ listings of tourism-related businesses, the website offers a multitude of articles, quality photos, and an event calendar, as well as online press room, business resources section, and "Request a Visitor Guide" feature on the front page. Visitors can choose to download an interactive Visitor's Guide or Wedding Planner for instant access to vacation planning information. The new tourism website boasts bright colors and breathtaking imagery of the local area.
"We're very pleased with the upgraded design and expanded search capabilities of the new site," said Diane Nordstrom, Director of Tourism for Currituck. "Development of the site has taken many months to accomplish. It's been a collaborative effort between the Department's staff and Ciniva Systems."
The website is best viewed with Internet Explorer 7.0 or later. To download the latest version of Internet Explorer, click here.
For additional information about the Tourism Department website, contact Stuart Chamberlain at 252-435-2938.
Contact: Irina Coccetti, Public Relations Coordinator
Currituck County Dept. of Travel & Tourism
Office: 252-435-2938
# # #