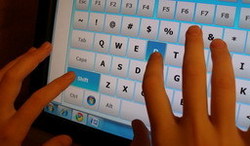 Delivering Experience Optimized for Multi-Touch
Vancouver, BC (PRWEB) December 16, 2009
Replacing the original Windows On-Screen Keyboard, Hot Virtual Keyboard 5.0 offers numerous benefits over the built-in version to allow computer users type faster and with more comfort. The latest edition adds support for Windows 7 and its sensor input with up to 255 touch points.
The latest edition of Hot Virtual Keyboard fully supports the new multi-touch technology available with Windows 7. Owners of touch-sensitive computer devices will be able to type faster, easier, and with greater comfort thanks to Hot Virtual Keyboard supporting up to 255 touch points. As the user is touching the touch-sensitive input device, Hot Virtual Keyboard turns the sensor into a keyboard that is fully featured yet absolutely flat.
To better support the new multi-touch virtual keyboard technology, Comfort Software introduces several new types of keyboards, including Standard3 (without NumPad), TouchGame1, TouchGame2, Tight1, and Tight2 to accommodate for typing preferences of different computer users.
Other improvements in the latest release include the support of up to 30 languages, the ability to download dictionaries from within the program, the ability to change keyboard size in an instant, the ability to automatically fit the keyboard vertically or horizontally onto the screen. In addition, extra configuration settings are added to make the on-screen keyboard even more customizable.
About Hot Virtual Keyboard
Hot Virtual Keyboard aims to replace the original Windows On-Screen Keyboard by offering users greatly improved typing experience. The use of Hot Virtual Keyboard speeds up typing and makes using touch-screen devices much more convenient. Hot Virtual Keyboard is able to accommodate personal typing preferences of just about anyone with endless customization possibilities and numerous configuration settings. The support of the multi-touch technology introduced with Windows 7 turns touch-sensitive devices into fully-featured keyboards with highly ergonomic operation.
Supporting all languages and keyboard layouts available in Windows, Hot Virtual Keyboard offers simultaneous choice of up to 30 languages. The latest edition supports more than 50 pre-defined virtual keyboards while offering the ability to customize each keyboard to personal liking.
The latest edition of Hot Virtual Keyboard supports Windows XP/Vista/7, and is offered as a free evaluation download at http://hot-virtual-keyboard.com/
About Comfort Software Group
Founded in 2006, Comfort Software Group manufactures and markets a wide range of usability tools and end-user software solutions to help customers improve productivity and better enjoy their use of personal computers. Comfort Software Group is dedicated to offering quality products and top-level service to our customers worldwide. The company strives to constantly improve its products according to the needs of the customers.
# # #