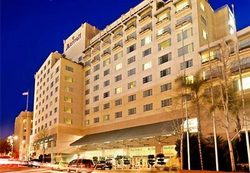 Monterey, California (PRWEB) December 12, 2009
For travelers planning a trip to the Monterey Bay area, Marriott is offering a new Monterey Bay hotel package that provides deluxe lodging and included admission to the Monterey Aquarium, for a limited time only.
The Monterey Marriott Aquarium package includes overnight accommodations for two in a deluxe guest room, two tickets to the Monterey Bay Aquarium and breakfast at Monterey Marriott's Three Flags Café. The Three Flags Café is an all-American restaurant located on-site that serves a fresh breakfast buffet as well as cook-to-order items.
After a refreshing breakfast, Guests can then explore the wonders of the deep blue sea at the Monterey Aquarium. When they return for the day, guests can enjoy the service and amenities of one of the largest full-service Monterey Bay hotels, including a heated outdoor pool, fitness center, meeting and convention space, and much more. Rates start at $264 a night, and this offer is valid through January 22, 2010. When making your online reservation, make sure that the promotional code P42 appears in the Corporate/Promotional code box, or mention code P42 when speaking to a reservations specialist on the phone.
For more information about the Monterey Aquarium Package or to book a room at the Marriott Monterey Bay, CA, hotel, please visit http://www.marriott.com/hotels/travel/mryca-monterey-marriott/.
About the Monterey Marriott Hotel
Located in the heart of historic downtown Monterey, the Marriott Monterey hotel is steps away from the Monterey Peninsula. Perfect for business, recreation and meeting needs, this full-service Monterey, CA hotel features fully renovated, smoke-free guest rooms with the new Revive bedding and bath collections for the ultimate in comfort. The hotel also provides an array of recreation including a heated outdoor pool, whirlpool, on-site day spa and a fitness center featuring LCD screens on all cardio equipment, along with over 50,000 square feet of meeting and convention space at the adjacent Monterey Conference Center. For more information, please visit: http://www.marriott.com/hotels/travel/mryca-monterey-marriott/.
# # #