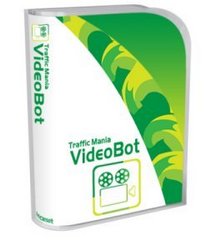 This makes video posting and promotion so much easier. Whereas before it may have taken days to promote your videos, now it takes minutes ...
London, UK (PRWEB) December 12, 2009
Online video has long been a powerful and indeed vital way of driving traffic to websites, but submitting them to online video sites has been difficult and time consuming. That has changed with the release of an innovative piece of software.
Videobot makes releasing online videos to a wide variety of online media a matter of moments.
Masterwebsoftware.com have added software to their webmaster software range designed specifically to make the release of online videos easy. It is designed to make releasing and promoting online videos to hundreds of sites a job that can be done in minutes rather than days.
This is a God send to many internet marketers. Online videos are a wonderful method of driving traffic and creating backlinks. Videos can become viral very quickly, with videos and links getting posted all over the net and driving more traffic than many webmasters could dream of normally. But the problem has always been propagating them throughout the net to try to start off a viral effect.
Signing up to and then uploading videos to various sites, such as YouTube, can take days. Which is why Masterwebsoftware.com has added this wonderful piece of software – it gives you the ability to post your videos, viral campaigns and adverts all of the net and tap into this rising media.
YouTube, for example, has reached 100 million viewers in the United States alone, a massive potential market to tap into. There are a plethora of software options for the easy creation of videos and online animations, but next to nothing available for the posting of videos to available content sites such as YouTube, until now.
This software also aids in the creation of online accounts for these sites. Unlike many 'automated' pieces of software which require you to manually sign up for accounts before you can submit all you have to do with Videobot Video Posting Software is enter the details once and then the software will create the accounts for you. Not only does it sign up to the accounts for you but also manages the follow up part, such as clicking confirmation links.
With the speed at which internet technology changes can often make buying software something of a lottery, which is why this software also comes with a lifetime upgrades guarantee, not to mention full technical support! Considering that often this process can be difficult the combination of a simple to use software and technical support this is an amazing breakthrough in video submission software.
# # #