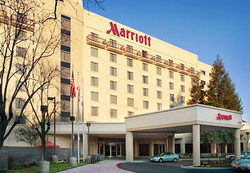 Visalia, CA (PRWEB) December 12, 2009
The Visalia Marriott at the Convention Center has just announced its Holiday special. Guests can get a Visalia, California hotel room for less during the holiday season with this special deal.
For a limited time, guests can stay at the Visalia Marriott at rates ranging from $89-$99. The special includes deluxe accommodation in a single or double room, as well as use of the Marriott's facilities. Guests can take advantage of the fitness center as well as the onsite pool and whirlpool when they book a room at the reduced rate.
The special rate is valid from December 18, 2009 until January 9, 2010. When booking online, make sure code HOL is in the Corporate/Promotional Code box. Those booking over the phone must mention the code in order to receive the savings.
Guests who take advantage of this promotion are also able to enjoy the area surroundings. When travelers stay at the Marriott, they are close to Sequoia and Kings National Parks, Downtown Visalia and The Mc Dermont Field House, along with other attractions. In addition, the Marriott is close to biking, bowling, horseback riding, ice skating and other family friendly activities.
To book a room at the Marriott's Visalia, CA hotel, go to http://www.marriott.com/hotels/travel/vismc-visalia-marriott-at-the-convention-center/ or call 1-800-228-9290.
About the Visalia Marriott at the Convention Center
The Visalia Marriott at the Convention Center offers guests comfort and luxury. The hotel recently underwent an $8.5 million renovation, making it one of the top hotels in Visalia, California. The hotel has Marriott's Revive® bedding, along with flat screen TVs and other amenities. It is one of the most popular hotels in Visalia and is dedicated to service, comfort and style.
# # #