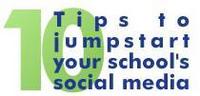 There are many ways in which a school can benefit from using social media
Andover, MA (PRWEB) December 14, 2009
Effective Student Marketing, Inc. recently released "10 Tips to Jumpstart Your School's Social Media" on the company website. The list is designed to help schools understand what makes a social media campaign effective, and offers a good starting place for schools that are new to social media.
By outlining some of the basic concepts behind social media, Effective Student Marketing hopes to get more schools involved in this up and coming marketing technique.
"We feel that social media should now be an important part of every school's marketing efforts, and we want to provide schools with some information about how to best go about starting a social media campaign," says Julie Foley, Director of Client Relations. "It can be a very overwhelming area, and since we've figured out some best practices, we'd like to share our knowledge with the higher education community."
Andy Kelley, the President of ESM, also stresses how important it is to get involved with social media in education.
"There are many ways in which a school can benefit from using social media, such as lead generation, branding and image building, managing student services, assisting the placement department, and bringing together alumni," said Kelley.
The Top Ten list includes basic ideas, like creating a Facebook page or inviting students and graduates to join. It also offers some more advanced ideas, such as creating applications and event pages. With such a wide range of sites and options available in social media, this list provides schools with a strong starting point, and encourages them to build off of the ideas presented.
To see "10 Tips to Jumpstart Your School's Social Media".
About Effective Student Marketing
Effective Student Marketing, Inc. is a strategic marketing organization that specializes in generating student leads and enrollments for career, technical, and vocational schools across the country through the use of Internet marketing tools and techniques.
The team at ESM combines experience working on the school-side with skills in the latest technology to create programs that can meet any school's needs. Marketing and recruitment programs can include online reputation management, social media, cost per lead vendor management, search engine advertising, search engine optimization, and e-newsletter production and distribution.
Contact:
Cassie Viau
Social Media and Communications Specialist
Effective Student Marketing, Inc.
Phone: 978-475-0880
http://www.effectivestudentmarketing.com
# # #