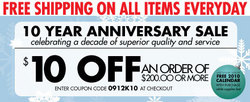 City of Industry, CA (PRWEB) December 12, 2009
Karat® and Karat® Earth manufacturer CupDepot.com is celebrating a decade of excellence in providing top-of-the-line plastic cups and other food packaging products. To commemorate this event, the leading plastic cups wholesaler is offering a $10 discount on orders of $200.00 and more with qualifying purchases such as: plastic cups, paper cups, and other food containers. Purchase soda cup bundles, translucent plastic cups, heavy-weight plastic utensils, and more for restaurants, cafes, and homes. Simply put in promo code "0912K10" during check out to take advantage of this promotion.
Specializing in competitively-priced plastic cups, paper cups, and food carriers, CupDepot.com ensures the quality of its food packaging products for their valued customers. Plastic cups are manufactured with PP or PET materials, which give plastic cups products a high level of clarity and translucence. CupDepot.com offers a variety of food packaging products, including paper cups and plastic cups in a wide range of sizes which are mostly compatible with major brands such as Solo cups, IP cups, and Dixie cups. Additionally, from December 14-31, 2009, the online plastic cups wholesaler is giving away a Lollicup® 2010 calendar for every purchase until supplies last.
CupDepot.com also offers custom plastic cups. With a short turn-around time, the company provides graphic design assistance and 4-color custom plastic cup printing. CupDepot.com gives only the best deals when it comes to plastic cups, paper cups, plastic utensils and other food and beverage packaging products that are perfect for the food industry. Simply sign up with the company's newsletter or visit CupDepot.com's official blog for the latest news and updates the company has to offer.
About CupDepot.com
Cupdepot.com is the manufacturer of Karat® and Karat® Earth paper and plastic products based in Industry, Ca. CupDepot.com is a subsidiary of Lollicup® USA, Inc. offering affordable premium plastic and paper cups, utensils, containers, straws, coffee cup jackets, etc. Headquartered in the City of Industry, Lollicup® is also known for its retailing bubble tea drink stores under the Lollicup® Coffee and Tea name. They are also well known for their Lollicup® Tea Zone brands line of coffee syrups and more. Press release produced by Cybertegic.com - an Internet marketing services agency that specializes in search engine optimized press release marketing (SEO Marketing).
# # #