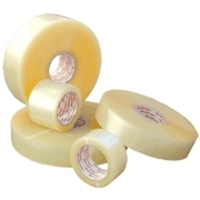 Rancho Cucamonga, CA (PRWEB) December 12, 2009
As one of the largest manufacturers of cutting-edge carton sealing tapes and quality-produced carton sealers, BestPack has found continuous success with its specially formulated carton sealing tapes. BestPack.com, a leading carton sealing tapes expert, has been in the packaging industry for nearly 40 years. These years of experience has given BestPack the ability to formulate specially designed carton sealers manufactured with consistency and durability as boxes go through carton sealers.
BestPack's specially formulated carton sealing tapes boosts a broad temperature range and consistent film quality, which is most crucial in the most packaging industries where temperature flexibility is of the essence. This is why the BestPack carton sealing tapes has found success in the pharmaceutical, apparel, electronics, and food industries. Suffice to say, the hot melt and water-based acrylic carton sealing tapes manufactured in an ISO 9001 and 14001 facility are the foundations of BestPack's success in its carton sealing tapes, and other packaging solutions.
In addition, the packing solutions and carton sealing tapes authority is giving businesses a chance to save as much as $1,168 in packaging equipment. A purchase of a BestPack Carton Sealer and a pallet of BestPack carton sealing tape entitle clients to a free BestPack tapehead. For more information on this exclusive offer, call 909-987-4258, ext 123.
A global leading manufacturer of integrated packaging equipment systems, BestPack.com dedicates itself in providing the packaging industry top-of-the-line packaging equipment solutions that are not only efficient but can be customized as well. Other products offered besides carton sealers and carton sealing tapes are case formers, shrinkwrappers, palletizers, and case erectors.
Simply sign up with the company's newsletter for more updates on efficient packaging equipment such as carton sealers and carton sealing tapes. Interested parties may also visit BestPack.com's official blog for news, tips, and additional information on helpful packaging equipment and solutions.
About BestPack.Com
Based in Rancho Cucamonga, CA, BestPack is the industry's leader in packaging equipment machinery, carton sealers, carton erectors and carton sealing tapes. Also providing customized packaging solutions, BestPack is the most reliable and dependable manufacturer of all product packaging systems. Press release produced by Cybertegic.com - an Internet marketing services agency that specializes in search engine optimized press release marketing (SEO marketing).
# # #