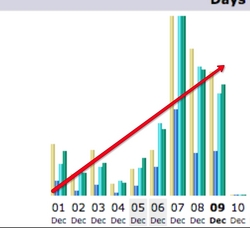 Free Gift To help Ease the Holiday Financial Burdens
Houston, TX (PRWEB) December 11, 2009
Keyword Corral, finds low competition, high traffic keywords, that are in buyer hungry markets, in a fraction of the time that it would usually take to find real money keywords. Which can help anyone get that extra cash they need this Christmas. And most importantly, Web2Mayhem.com is giving it away for free. Not a free trial, or a free version that's modified in some way. Go to http://web2mayhem.com/keywordcorral and download the full version and get started right away, absolutely free. Think of it as an early Christmas present from Web2Mayhem.com the powerful new seo technology.
With the unemployment rate at an all-time high, the people behind Web2Mayhem want to show people that it is possible to still make money online. Now more than ever, it's important to have a way to make money yourself. Anyone can start using Keyword Corral for absolutely free to help target real money keywords and learn how to make money online.
What Keyword Corral does is automate a proven process of selecting and filtering keywords to find just the right niche market to target. It helps to find real money keywords that have little competition, but high potential for generating lots of visitors and getting great returns. While it is a brand new product, it recently went through beta testing with a select number of subscribers and customers, and the feedback from users has been fantastic!
Keyword Corral is a part of the Web2Mayhem.com suite of tools, which are engineered and crafted to work together to dramatically increase your website traffic levels and improve search engine rankings. Web2Mayhem.com has thorough and intensive training programs that will help anybody, regardless of their level of skill and experience, to learn step-by-step exactly how to dominate Google, Yahoo & Bing, get floods of targeted traffic to any site you want, and gain instant access to the most powerful promotion tools available.
To learn more about Keyword Corral visit http://web2mayhem.com/keywordcorral
# # #