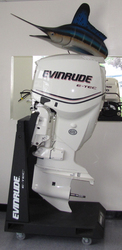 When you put the whole thing in context
Westbrook, CT (PRWEB) December 12, 2009
For the fourth time in as many years, Atlantic Outboard, Inc., based in Westbrook, CT, has received the coveted Evinrude E-Tec National Sales Excellence Award. The annual honor is awarded to the E-Tec outboard dealer with the year's best sales and service track records.
Atlantic Outboard President, Mr. Paul Cusson, accepted the plaque at a national dealer meeting held by Evinrude parent company in September, Bombardier Recreational Products, at the Oprey Land Hotel in Washington, DC, in early September. Cusson received the award from E-Tec Northeast Regional Sales Rep, Tom Mason.
"When you put the whole thing in context," commented Cusson, "it's an achievement we're all very proud of. A dealership in a small coastal town in Connecticut, working in a well-defined territory against a relatively short boating season—it feels good that we continue to excel, even by coast-to-coast standards."
Asked about the dealership's continued success, even in the midst of a grim economic climate, Cusson sees the award as confirmation of the dealership's focused mission. "We don't try to do a lot of things on a mediocre level. We do a small number of things, but we do them at the absolute highest level. From our sales force to our techs, our crew knows E-Tec outboards cold, and this award just confirms our dedication to excellence."
Founded in 1989, Atlantic Outboard, Inc. is New England's largest outboard-powered fishboat dealership, carrying a range of boat lines including Hydra-Sports, Eastern Boats, Southport Boatworks, Sea Fox, Maritime, Carolina Skiff and May Craft. The largest Evinrude E-Tec in North America, Atlantic Outboards has won the manufacturer's coveted Sales Excellence Award every year since 2006, and are also authorized dealers for Honda Marine Power.
# # #