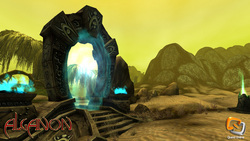 Alganon now available via Impulse Digital Distribution Platform.
Chandler, AZ (PRWEB) December 12, 2009
Quest Online today announced the immediate availability of Alganon on Stardock's Impulse digital distribution network.
Alganon is a fantasy MMORPG that allows thousands of people to play together in a virtual world that features a rich history dominated by commanding deities, powerful weapons, deadly magic, epic quests, ancient places to discover, the utilization of detailed trade skills, and much more. In addition, Alganon offers unique and rich content, amazing immersion and challenging quests - all within a vibrant and beautiful world powered by a great community.
David Allen, President and co-founder of QOL said, "The primary goal in designing Alganon was to build upon the MMOG framework players were familiar with and enhance the experience through innovative features and fun gameplay; supported by seamless growth and unparalleled interaction."
Alganon offers a number of new and innovative features in the MMORPG genre. Specifically, the Library system is an in-game repository of information available to players, allowing the lookup of quests, NPC descriptions, items, creatures, loot tables, resources, trade skills, and more. Equally innovative is the Studies system, a real-time character support progression system where players are amply rewarded for subscribing, not just playing. Community enhancements revolving around the MyAlganon social network (http://www.myalganon.com), Guilds and Families also bring a fresh new experience straight to the gamer.
For details, videos, community forums and more, please go to http://www.alganon.com.
About Quest Online, LLC. (http://www.qol.com)
Founded in early 2006, Quest Online, LLC (http://www.qol.com) is a privately held corporation focused on the creation of next generation online games.
###