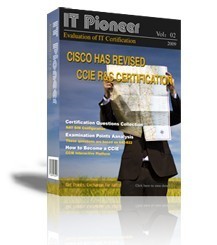 If you have any question or suggestion about IT Pioneer, please feel free to contact answer(at)pass4sure(dot)com
(PRWEB) December 15, 2009
"IT Pioneer" made its debut at Pass4sure on 14th March, 2009. It is a monthly magazine, including technology skills, analysis of stresses and difficulties on certifications, aiming to provide IT professionals with a platform to share technical resources. So far, four issues had been released and the fifth one is under preparation.
"IT Pioneer" contains the following contents: Industry hot news, Certification Perspective, Technical Skills, Pass4sure Activity, and Pass4sure Discount Voucher Issuance. For some special issues, more related columns will be covered.
It is beyond the expectation of Pass4sure executives that "IT Pioneer" is so welcome by customers. Some customers even write frequently to ask for more detailed information, such as the publish date of the new issue, the possibility of being free, and so on. Pass4sure values the feedbacks of customers very highly. These questions will be answered one by one as follows:
1. About the publish date of the new issue.
As mentioned above, the fifth issue is under preparation now. It is estimated that it'll come out at the end of this month.
2. The possibility of being free.
Many customers wrote to ask about the possibility of getting "IT Pioneer" for free, since the Magazine is a platform for technical resources sharing. Pass4sure has made some actions that price is cut down from $19.99 to $4.99, and that each customer will get an IT Pioneer for free if he/she buys a Cisco product plus one dollar. Also, Pass4sure executives are thinking about releasing the magazine for free. As to the result of counsel, let's just wait and see.
3. About the frequency of update
Some also write to ask about the frequency of update. Since it is a monthly magazine, there should be one new issue for each month. The fact is that, from March until now, only four issues had been published. That is the fault of Pass4sure for during the previous months, Pass4sure experts focused too much on product update. But now, this problem has been solved. More experts are employed by Pass4sure and the "IT Pioneer" will be release normally from now on.
"If you have any question or suggestion about IT Pioneer, please feel free to contact answer(at)pass4sure(dot)com," said Bowen Wood, Pass4sure's Director of Software Development Centre.
###