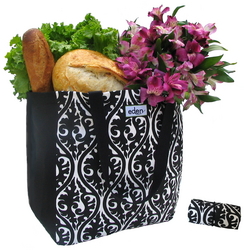 "Our primary goal was to impact our environment by using recycled material. Our next desire was to help our economy by using U.S. labor and materials."
Milford, MI (PRWEB) December 15, 2009
EDEN is one U.S. company striving to reduce the number of plastic bottles tossed in our landfills. Just launched in November, each of their tote bags uses recycled plastic bottle fabric produced here in the U.S. Eco-fi is a high-quality polyester fiber made from post –consumer recycled plastic bottles.
EDEN's Mission: Act Today. Impact Tomorrow. TM They trust action today will impact our environment tomorrow. Every ten minutes in the U.S., two million plastic bottles are used. Scientists have shown it will take 700 years before these plastic containers start to decompose. EDEN committed to using the USA recycled plastic bottle fabric in their bags.
The American-made fabric used in EDEN totes starts as plastic PET containers saved after use and routed to community recycling centers. These bottles are then sorted by color and type and stripped of their labels and caps. Next, the bottles are washed, crushed, and chopped into small flakes. This flake is melted and forced through a nozzle similar to a shower head to create the fiber. The fiber is crimped to add body and stretched for strength. This yarn is then ready to be processed into fabric for a wide array of uses.
"We're introducing this line of tote bags for two reasons," states Jan Verploeg Petsch, founder of EDEN bags. "Our primary goal was to impact our environment by using recycled fabric. Our next desire was to help our economy by using U.S. labor and materials." EDEN bags are the only American-made bags of their type based completely on the use of USA recycled PET plastic.
Petsch found when searching for U.S. textile mills that many had closed their doors, unable to compete any longer with imported goods. This strengthened the company's desire to use domestic fabrics. Not only is the Eco-fi fabric produced here in the U.S., but the cotton prints used are created here as well.
The bags are manufactured in Michigan. "We could have reduced our production costs substantially if we had gone overseas, but then we'd be part of our country's problem. We committed to investing into our own labor force," states Petsch.
Unlike many of the tote bags currently on the market, the EDEN tote bags are large and roomy, with the ability to hold up to 7 two-liter bottles or the equivalent of three standard plastic bags. The totes roll up and secure for easy storage and are lightweight enough to carry in a handbag or backpack. Each bag states the number of plastic bottles recycled to create the fabric used in the tote.
The names of the EDEN bags conjure up feelings of playful beauty such as Tango and Box Step in the Rhythm collection or Onyx Moon and Midnight Topiary in the Black and White Nights collection.
The impact of EDEN goes further than our environment and supporting our economy. The company has committed to donating a portion of their profits to "Feeding America's Hungry Children", a charity that distributes food and grocery products to over 100 charitable hunger relief agencies.
EDEN bags use U.S. recycled plastic bottle fabric, along with USA cotton prints to create colorful and eco-friendly totes. These totes collapse, fold and roll making it possible to always have one at hand ready for any use.
About EDEN Bags
Eden offers American-made eco-friendly totes of Eco-fi, a high-quality USA polyester fiber made from post consumer recycled plastic bottles. Large, lightweight and colorful totes roll and secure for easy storage making them the perfect companion for shopping, traveling, transporting much- loved items. You'll find all the styles along with detailed bag descriptions at http://www.edenbags.com. EDEN continues to invest in our environment and U.S. economy.
For more information, contact EDEN at 248.797.1055, FAX: 248.684.2388, info(at)edenbags(dot)com, http://www.edenbags.com.
###