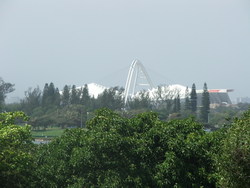 consider camping Durban-style...it will be an experience of a lifetime
(PRWEB) December 16, 2009
As plans for the 2010 Soccer World Cup reach fever pitch, soccer fans are discovering an accommodation option that will enable them to be part of the action on the cheap.
Instead of forking out excessive hard-earned cash to stay in an over-priced South African hotel, guesthouse, bed and breakfast establishment, or even in a backpackers lodge, Camp Durban 2010 are offering a secure, full amenities camping venue for just £20 ($35) per site per day.
To be set up at several hand-picked school campuses in Durban especially for 2010, the camping venues are located less than 7km from the stadium where matches will be held. Regular shuttles to Fan Parks and the stadiums will be on offer, alternatively its close enough to walk.
Located close to white sandy beaches, local pubs and restaurants and a full range of shopping options, these innovative venues offer all the facilities soccer fans need. There will be all the facilities a good camp site would have, including clean showers and toilets and access to inexpensive home-cooked meals on site throughout the day. The campsites will show the matches on big screen TV's for the ones visitors won't be attending, plus there are swimming pools, beer tents, music and more.
An initiative of Durban-based Emerald Fire and London-based Breakthru Marketing, the newly launched venues open up exciting opportunities for those who want a really fun experience in South Africa without wasting time and money in an overpriced hotel room. It's also an ideal solution for groups wanting to travel together.
Not only is there already a shortage of beds in Durban, but as the city gears up for 2010, most beds are highly overpriced. Quite simply, this is because there is a huge demand to stay in this premier city that offers the mildest, most pleasant climate in June and July, which is when 2010 World Cup Soccer matches will be played. While Cape Town experiences heavy rainfall mid-year, and Johannesburg and Pretoria suffer from winter frost, Durban has balmy, temperate weather and some of the best beaches in the country. The water temperature is seldom lower than 20 °C and the surf is safe for swimming and surfing. In fact Durban is one of the most surf-friendly cities in the world.
Better still, Durban plays host to 7 matches, plus one semi-final. It is a short, one hour flight from Gauteng (Johannesburg and Pretoria) where some of the other world cup matches will be played, making it the most important 'match fill' location in South Africa. If guests want to make even more of their holiday, they'll have easy access to the magnificent Drakensburg mountains, the Midlands and all the North and South Coasts that KwaZulu-Natal have to offer.
In and around Durban itself, the Camp Durban 2010 hosts can offer people visits to Zulu cultural villages, fascinating township tours, and visits to mosques and temples. Guests can also participate in just about any sport possible, from golf or tennis to abseiling and parachuting.
Durban is close to South Africa's vast sugar-growing region which was originally worked by indentured labour from India. As a result Durban has the largest Indian population outside of India and there is a wonderfully vibrant Eastern feel to parts of the city. Best of all travellers will find some amazing curry restaurants serving Durban's own Indian food. On the whole Durban is very cosmopolitan, offering Chinese cuisine to good British fare.
There's so much to do, and so much to see, if soccer fans are even vaguely tempted to travel to South Africa for the Soccer World Cup next year, they must consider camping Durban-style. It will be an experience of a lifetime.
For more information please visit http://www.CheapDurban2010.com
###