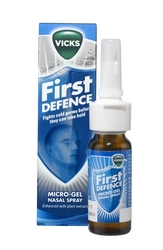 It's shocking that something as common as a cold can burn such a large hole in our pockets
(PRWeb UK) December 12, 2009
Although we're moving out of recession, we're still not completely out of the red. Research released today by Vicks First Defence Micro-Gel Nasal Spray has revealed that the common cold could be costing the economy a whopping, £42.3 billion a year.
Alison Steed, a financial expert, said: "It's shocking that something as common as a cold can burn such a large hole in our pockets – leaving us financially worse off, not to mention the overall cost to the economy which could reach £42 Billion a year. But besides the financial cost, no-one wants to be out of action with a cold in any case. So you should try to keep yourself healthy, and make sure you are doing everything you can to either protect yourself from catching a cold, or avoid the possibility in the first place."
The potential cost of a cold to the economy
The survey assessed the average Briton's management of a cold and found that 62% of Brits surveyed think the common cold can halve their productivity, which is also bad news for businesses. Furthermore, 71% of Londoners said they would take at least one day off work, the current residential population is approximately 61,383,000 , and with the average daily wage estimated at £95.80 , there could be a potential loss of £42,339,538,000 per year on sick days taken due to a cold. This comes at a huge cost to the economy, especially as it is estimated that adults catch an average of two to four colds a year.
What could be the answer?
Don't let the common cold burn a hole in your wallet, Vicks First Defence Nasal Spray is clinically proven to help STOP a cold in its tracks and at a ONE OFF cost of £6.99 can you afford to risk catching a cold?
Vicks First Defence Micro-Gel Nasal Spray is clinically proven to help stop a cold from developing full blown symptoms. When used when you feel at risk of catching a cold, the unique Micro-Gel spray, can trap and inactivate the cold viruses at the back of the nose helping to flush them out. Furthermore, Vicks First Defence Nasal Spray now has an added Money Back Guarantee, so if you are not completely satisfied, you can get your money back – it's as simple as that. So, now you can defend yourself (and your pocket) against the onset of the seasonal common cold.
Vicks First Defence Nasal Spray – Attack is the Best Form of Defence.
###