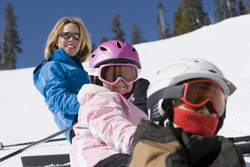 "Now more than ever Americans are looking to spend more of their precious time off with their families – particularly vacations that offer something for every traveler. We think this is the perfect year to ask Santa for a timeshare vacation."
Washington, DC (PRWEB) December 13, 2009
As we wrap up a year that was tough on our wallets, Americans turn to the holiday season and the New Year for a fresh start. The American Resort Development Association (ARDA) suggests that instead of wandering the malls aimlessly and buying gifts that will likely go unused -- consider buying the gift of time as a present for your family.
"There's nothing more memorable than a great family vacation," says Howard Nusbaum, president and CEO of ARDA, who points to the economy as a driving factor of how vacations have changed. "Now more than ever Americans are looking to spend more of their precious time off with their families – particularly vacations that offer something for every traveler. We think this is the perfect year to ask Santa for a timeshare vacation."
Timeshare resorts are adapting to the more budget-conscious traveler and offering rentals, trial memberships and shorter-term vacation products as a way to let travelers test the products and see the benefits of a regularly scheduled vacation.
Despite tough economic times, vacations should still be viewed as an important part of family memories, rather than a luxury item. Taking an annual vacation with timeshare ensures that there is no stress from planning while the high-quality resorts accommodate every traveler's desires. The long-term benefits of owning a vacation product range from guaranteeing regular getaways to leading a healthier, more relaxed lifestyle to sharing special, quality family time. In fact, studies show that there are undisputed, long-term benefits associated with taking regular vacations that contribute to better health, relationships and job performance. No wonder timeshare owners continue to travel despite tough economic times.
Everyone deserves not only a vacation, but a better vacation. For more information, visit http://www.VacationBetter.org.
About ARDA
The American Resort Development Association is the Washington D.C.-based professional association representing the vacation ownership and resort development industries. Established in 1969, ARDA today has over 1,000 members ranging from privately held firms to publicly traded companies and international corporations with expertise in shared ownership interests in leisure real estate. The membership also includes timeshare owner associations (HOAs), resort management companies, and owners through the ARDA Resort Owners Coalition (ARDA-ROC).
###