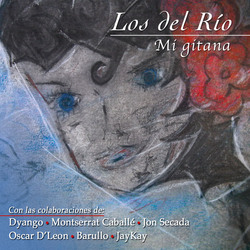 We are very excited about Mi Gitana, for which we called some old friends who have helped us up the ante before and they were excited to up the ante with us again.
Hollywood, CA (PRWEB) December 11, 2009
Los Del Rio, meet The Beatles. In November, the world experienced Beatlemania all over again with the launch of the interactive music video game The Beatles: Rock Band and re-mastered versions of some of the Fab Four's classic albums.
Now, just in time for the holidays, the legendary duo from Andalusia brings their unique vocal and rhythmic magic to a new twist on "Hey Jude," the debut single from Mi Gitana, LDR's first all Spanish-released album in five years. The track features world renowned Spanish vocalist Dyango.
Mi Gitana also features Montserrat Caballe on "Mi Lola," a remix of Tom Jones' classic "Delilah," as well as a tribute song for "La Faraona" Lola Flores penned by Domingo Zapata and produced by Jon Secada, Carlos Caballe and Barullo. The collection includes duets with Secada on the song "La Canto" and Oscar D'Leon on "Mazukamba." Zapata was also commissioned to paint the album's stunning cover artwork.
Mi Gitana is scheduled for release in Spain at Christmas and in the U.S. in early 2010.
Concurrent with the release of Mi Gitana, Los Del Rio has forged a unique cross-promotional relationship with two renowned Andalusia based companies the duo has worked with over the years in various capacities: Manzanilla La Guita, a popular fino sherry; and Agerul, which manufactures the most dependable home cleaning products in the country.
Los Del Rio is engaging both companies with a unique approach to product placement. Both Manzanilla La Guita and Agerul are prominently featured in the packaging of Mi Gitana, and both will appear and be worked into the storyline in the upcoming video for "Hey Jude." The companies are also planned sponsors of LDR's 2010 tour.
The connection extends beyond the notion of a fruitful business venture beyond artist and corporations. LDR are Andalusia's favorite sons, Manzanilla La Guita is Andalusia's favorite drink and Agerul keeps households clean throughout the region.
In a joint statement, LDR's Antonio Romero Monge and Rafael Ruiz said: "Andalusians have lifelong bonds. Los Del Rio are grateful to have the opportunity to collaborate with Manzanilla La Guita and Agerul. We are very excited about Mi Gitana, for which we called some old friends who have helped us up the ante before and they were excited to up the ante with us again. This album is huge for us, and we are especially excited about continuing our long term relationships with these two companies. We have a very special bond with these products, because they were born out of the fact that they are a part of our everyday lives. We use them because we believe they are the best in the marketplace."
Darius Jordi Lassus, President and CEO of International Music Content, Inc., states: "Last year, Los Del Rio released the album Quinceanera Macarena on IMC exclusively for the U.S. and Puerto Rico through Venemusic/Universal Music Latin which was supported by a national TV direct response campaign on Univision, Telefutura and Galavision. We celebrated the 15th Anniversary of 'Macarena' and got LDR back on the U.S. Billboard Charts and into the Top 20 of the Latin Tropical Charts. This Christmas, we're pleased that Los Del Rio are back with a star studded album, which also introduces new artists like Barullo on 'Chambalaba' and JayKay on the album's title track 'Mi Gitana.'"
Domingo Zapata, Chairman of IMC Records, adds: "We are honored to have guest appearances by our beloved diva Montserrat Caballe, Spaniard crooner Dyango, Jon Secada, Oscar D'Leon and introducing IMC recording artists JayKay and Barullo. LDR's musical career has spanned over 40 years, and I feel this album is the beginning of a new direction for them. I'm very happy to be a part of it, and we're already planning a live musical to premiere in Madrid this winter featuring LDR."
###