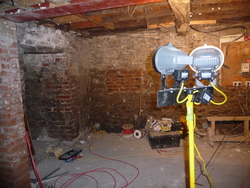 We always do it this way
(PRWeb UK) December 15, 2009
The residents of Cockermouth in the wake of their recent flood event, are now faced with a new catastrophe, the recovery phase. Despite a decade of major flood events, Claimtech have confirmed that Cockermouth residents and businesses face the same mistakes seen by other communities over the past 10 years. The DisasterAdvice reports of Lewes, Hull and Sheffield and are typified in the Disaster advice audits and case studies.
The lessons always said to be learnt, simply haven't been. Incompetence and idiot actions abound and even Sir Michael Pitt in his 2007 government report suggested the industry gets its act together.
As international experts in flood and disaster restoration Claimtech have no hesitation in stating that the UK must have the only restoration industry in the world that has no recognised qualifications, standards or protocols and allows unqualified contractors to destroy their properties as they set about about major demolition and unfounded decontamination or restoration works.
Time and again we see contractors entering a property and simply gutting it and then trying to dry it over months and even years with technology that doesn't work typified by the homeowners of Hull living in caravans in their gardens for over a year.
Claimtech have now released their Cockermouth Audit from just a handful of claims each within 100 yards in Cockermouth high street.The deja vu results were as if we had gone back to the East Sussex floods affecting Lewes in 2000. The only properties that were seen with similar protocols, were those that were being destroyed by demolition.
In the realisation that disaster restoration is something few victims have knowledge or experience in, Claimtech have provided a new "Flood Victim Support" information page full of international and independent links to free essential information on all aspects of flood recovery and health or safety issues.
###