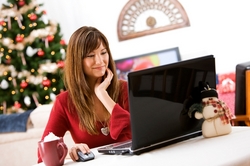 (PRWEB) December 15, 2009
The holidays are upon us and it's time to find the perfect gifts for friends and family. From bargain-hunters to shoppers in search of a gift for that hard-to-please relative, it's important for every consumer to follow safe Internet shopping practices. Before clicking 'Submit Payment,' review the following Internet shopping tips from WildBlue Deals, an authorized dealer for WildBlue Communications - the leader in high-speed satellite Internet.
Shop on secure sites – Before purchasing a big gift, online shoppers should always confirm a Web site's security. Many e-commerce sites will encrypt credit card information so that no one else can see it. Check out the web address on the page where credit card information is submitted to verify a site does this. The web address should begin with "https" instead of the usual "http." The 's' is a sign it's secure.
Consider calling in orders – Shoppers who don't like the idea of submitting personal information over the Internet can always call in their orders. Most Web sites take orders over the phone. Just remember to get the ID number and name of the person who takes the order.
Shop on a secure network – Whether shopping from a home or work computer, make sure it's done using a secure connection. Satellite Internet offers one of the most secure connections available. Internet hackers are getting more advanced and can access every move consumers make online when they browse the Web on unsecure networks.
Pay by credit card – It's easier to dispute a credit card charge than payments made by debit card, cash or debit. If an item doesn't arrive or arrives and is different from what was advertised online, in many cases, the charge can be disputed. For more information on paying with a credit card and disputing charges, visit the Better Business Bureau's Web site.
Shop around for prices – Always read terms and conditions before making a purchase. And do research to find the best prices. Many Web sites offer seasonal discounts that aren't available in stores.
WildBlue Deals, LLC, is an authorized dealer of WildBlue Communications.
###