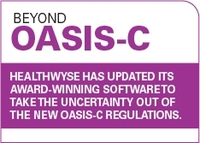 Last week I attended a workshop on OASIS-C. I was overwhelmed with the problems I thought we would have to work through. HealthWyse has addressed those problems. I am very pleased with what I saw and heard
Wilmington, Mass. (PRWEB) December 11, 2009
HealthWyse, LLC of Wilmington, Mass. announced today that its clinical and financial software solution has been updated to accommodate the new OASIS-C regulations and make it easier for agencies to comply with the regulations coming in January 2010. The new OASIS-C regulations, which impact the clinical practice of Medicare certified agencies, are major changes for the home health industry.
The revolutionary HealthWyse OASIS-C software updates are designed not only to ensure an agency's compliance with the new regulations, but also to simplify the input methods for new documentation requirements and enhance the Clinician's understanding of the regulations altogether. The intuitive user interface prompts Clinicians for input as needed, and provides alerts when necessary components are missing. The HealthWyse solution was developed to go beyond OASIS-C to address the needs of Clinicians and patients, rather than just the agency.
"Last week I attended a workshop on OASIS-C. I was overwhelmed with the problems I thought we would have to work through. HealthWyse has addressed those problems. I am very pleased with what I saw and heard," says Sharon Starr of Genesis Home Care, a top performing home health agency in Ohio.
"As new regulations emerge, and they constantly do, software providers necessarily update their products to address the requirements. HealthWyse consistently goes beyond the minimum requirements to develop solutions that satisfy the unique needs of the Clinician, and make compliance essentially automatic. Our OASIS-C solution has received such tremendous feedback already. We're really excited to see it in action!" says Andy Braunstein, co-founder and chief technology officer of HealthWyse.
Braunstein isn't the only person excited to see the solution in action. HealthWyse clients are even more excited. "After seeing the HealthWyse OASIS-C model, we are no longer apprehensive about January 1, 2010. OASIS-C presents many challenges to Home Health Agencies.
HealthWyse is providing us solutions that will enhance our ability to meet these challenges successfully," says Debbie Costello, RN BSN MS, Director of Quality and Safety at Caritas Home Care in Massachusetts. For more information about the HealthWyse OASIS-C solution, visit http://www.healthwyse.com/oasisc.
About HeathWyse, LLC
Incepted in 1998, HealthWyse, LLC provides an integrated clinical and financial information system to home health, hospice and private duty agencies. The HealthWyse solution is delivered through a hosted data center, with end-to-end managed services. The HealthWyse solution has been selected by the Visiting Nurse Associations of America (VNAA) as a preferred Point of Care solution for member agencies, and in 2006 they were awarded the prestigious ComputerWorld Laureate Award in the category of Mobile Healthcare Solutions. HealthWyse products directly address the everyday challenges faced by home health, hospice and private duty agencies nationwide.
# # #