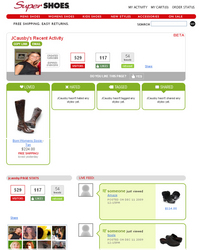 Customers want to connect with each other and to do so in real time" explains Frank Malsbenden, VP, General Manager of Vision Retailing, Inc.
Andover, MA (Vocus) December 15, 2009
Online footwear retailer Supershoes.com gave its visitors the ability to create Vanity URL's this week. The feature allows visitors to secure a custom vanity URL for their profile page on the site, which they can populate with their most and least favorite shoes as well as uniquely tagged products. Visitors can easily share their Vanity URL with friends and fellow shoppers, while leaving their own mark on the site. Supershoes.com Vanity Pages are optimized for Facebook and Twitter and even include a new "Live Feed" that shows real-time interactions on the site. The new functionality was added to keep step with evolving customer behavior online: "Customers want to connect with each other and to do so in real time" explains Frank Malsbenden, VP, General Manager of Vision Retailing, Inc., "our Vanity Pages are designed to focus on these two key components of e-commerce specifically: social connectivity and Real Time Web."
Vanity URLs are just the latest step in Supershoes.com's strategy of increasing interaction and socialization across its site. In September of this year the company reported double digit increases in product page visits, conversion rate and customer interactions on product pages by launching a number of new features including the ability to rank, tag and share products customers like or dislike. "Love It", "Hate It", "Tag It" and "Share It" buttons were added to all product pages this past May.
Once its customer base embraced the new interactive features, the company sought to create a more personalized experience that would allow visitors to take ownership of and share the actions they took on the site. Vanity Pages offer customizable profile pictures and "page stats" that seek to engage customers with a tally of Visitors, "Likes", "Retweets", and "Facebook shares" their page has garnered. The Vanity Page design promotes the social shopping concept with a "Profile Grid" showing the profile images of the most "liked" Vanity Pages and a "Live Feed" that shows actions being taken across the site in real time. Sharing is encouraged not only through the personalized, easy-to-share URL but with heavy tie-ins to Facebook and Twitter.
Noting that the "Vanitize" concept is still in Beta, publicized only to a small group of core customers, Malsbenden explains he is excited by early adoption of the new features, which will be introduced on a larger scale via Facebook and Twitter later this month. "As each new Vanity URL is added, we're really seeing our site evolve with the Social Web," he explains. "This is all about the consumer, and so where we go with this will really be driven by them. We're just laying the groundwork and are excited by the possibilities of where this can go." Malsbenden believes this focus on the evolving consumer is one of the main keys to success for E-Commerce sites going forward. "As the web becomes more social, E-Commerce sites need to become more social or else they will soon find themselves out of step with the typical internet user."
About SuperShoes.com
SuperShoes.com is an online retailer specializing in women's shoe brands including Born, Sofft, Softspots, Clarks, Naturalizer, Skechers and BOC. It is a wholly owned subsidiary of parent company Vision Retailing Incorporated, an e-commerce consulting company based in Andover, MA. An experienced e-tailer committed to innovation, Vision Retailing owns online properties Shoeline.com, SuperShoes.com and AddingtonFalls.com and has consulted a number of high end Department Stores, brick and mortar retailers and consumer goods manufacturers including GEOX, Born Footwear and Sofft Shoe Company.
For More Information:
Mary Jane Mellet
Office: 978 933 4843
Cell: 203 536 6071
melletm(at)hhbrown(dot)com
###