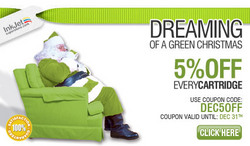 Cutting down on waste and doing some eco-friendly recycling and energy-saving can make a large impact. We must join together to help our beautiful Planet Earth maintain that beauty. When we all work together, the results will be forthcoming
Bell, CA (Vocus) December 12, 2009
In keeping with its eco-friendly reputation, InkjetSuperstore.com is offering green printing tips for the Holiday Season with a just published white paper, "Holiday Green Resolutions." Aiming to share valuable recycling tips along with specific product information for the HP 51645A black ink cartridge and HP Planet Partner Program.
With many people making New Year's resolutions they fail to keep throughout the year, InkjetSuperstore's white paper includes easy-to-keep resolutions that will not only save people money, but help save the planet as well.
Among others, the suggestions include a resolution to use remanufactured or compatible toner cartridges and ink cartridges as a way to keep non-biodegradable plastic parts out of landfills.
The paper includes Holiday Recycling Tips concerning gift giving and ways to recycle gift-wrapping paper. Another is to compost leftover fruits and vegetables from the holiday meal. It also contains interesting information concerning the amount and types of waste that finds its way into landfills each year.
"Cutting down on waste and doing some eco-friendly recycling and energy-saving can make a large impact. We must join together to help our beautiful Planet Earth maintain that beauty. When we all work together, the results will be forthcoming," stated Dan Daz Customer Service Supervisor "One of the suggestions we give our clients when they get in contact with us is to not only use our remanufactured 'earth friendly' products but to learn about what they can do with their ink and toner cartridges; the white paper will help during this holiday season to do so," added Dan.
In keeping with this theme, the paper also includes a review of the HP 51645A black ink cartridge, one of the most widely used printer cartridges, and information about HP's recycling program. To make it easier to start living green InkjetSuperstore.com offers 5% off on every ink and toner cartridge through out the month of December.
A reseller of printer consumable products, InkjetSuperstore.com has been serving customers since November 2000. They offer ink and toner cartridges and printing accessories including ribbons, drum units, rollers, fuser/maintenance kits, MICR toner cartridges, photo paper, printer cables and media/data tapes/disks.
###