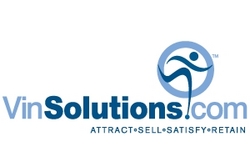 Mission, KS (Vocus) December 12, 2009
VinSolutions, Automotive CRM and software provider, announces a 112% increase in new business sales revenue over last year. VinSolutions has achieved this growth by offering a comprehensive automotive CRM, ILM and website solution.
VinSolutions' CRM reaches beyond the traditional solution by integrating CRM services with award winning websites, search engine optimization services (SEO), internet lead and inventory management, credit applications, marketing solutions, appends services and innovative desking tools.
"We expect to see similar exponential growth rates as we have experienced for the last year for at least the next 36 months. We feel our best in class feature sets and no contract approach has changed the industry forever. With the help of our customers and consultants we see our current competitive advantages to increase. The dealers deserve and need the most advanced software they can get. VinSolutions is the most advanced and feature rich automotive software a dealer can buy." Sean Stapleton, Executive Vice President of Sales.
Business Partnerships
While VinSolutions customer base grew at record rates in 2009, the company signed major integration agreements with leading industry partners, including DealerTrack Arkona DMS, DealerTrack , Inc., CARFAX, Galves, AIS Rebates, ADP, BlackBook, NADA, and DME a JM Family Enterprise. As well as becoming a certified partner or preferred provider of Honda, Acura, GM, Chrysler, Subaru, Volkswagen and Audi.
Growth Milestones and Expanded Reach
VinSolutions is supporting this growth by ramping up staff and expanding locations.
In addition to new sales leadership, the company has acquired the services of several industry leaders. Kendall Billman, Director of Interactive Marketing, is a leading expert in automotive website development, SEO and SEM internet marketing. Katherine Donovan, Director of Account Development has 15 years of experience in automotive with a focus on loyalty through direct marketing, data analytics and internal dealership processes.
In order to enhance the services provided, VinSolutions has improved its dealership touch points with new satellite locations. Opening a new location in Minneapolis, Minnesota, and is scheduled to open a new office in Dallas, Texas first quarter of 2010.
Whether looking for a CRM, ILM, Website or full suite of services, VinSolutions will continue to provide dealerships with exceptional service and innovate solutions that shorten the distance between a dealer and their customer.
About VinSolutions (http://www.vinsolutions.com)- NADA Booth 2607:
An industry-leading developer of Internet-based desking, customer relations management (CRM) and Internet lead management (ILM) software, VinSolutions provides 24/7 dealership sales and marketing information to their clients anywhere Internet access is available. In addition to automotive CRM, ILM and Inventory control products, VinSolutions builds custom dealership Websites, uploads inventory photos, offers their clients quality training and consulting services, as well as valuable customer support. VinSolutions is Honda, GM, Ford, Chrysler, Subaru and Audi certified and has working relationships, alliances and integrations with several automotive software service providers such as Kelley Blue Book, CarFax, AutoSoft, Inc., Autodata, RouteOne and DealerTrack.
###