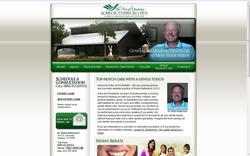 It's a privilege and a responsibility to give to those in need. All kiddos deserve a present to open at Christmas time.
Odessa, TX (Vocus) December 12, 2009
It's that time of the season, and one Odessa cosmetic dentistry practice is in the gift-giving spirit by sponsoring a popular holiday program that gives brand new toys to children in need. From now until December 14th, the Art of Dentistry and Dr. Robin Rutherford are accepting donations of toys and cash for the Marine Toys for Tots program. All donated toys will be picked up on the 14th for later distribution to local children who are less fortunate than others. Any cash donations received will be spent on toys. This is the fourth year that Dr. Rutherford's practice has participated in the toy drive, and staff members say they are just happy to be a part of it. "It's a privilege and a responsibility to give to those in need. All kiddos deserve a present to open at Christmas time."
Dr. Rutherford, an established implant dentist serving Midland, Odessa, and the surrounding region, is also entering each donor of a toy or cash into a drawing for a gift basket full of prizes. He says the winning donor does not have to be present for the drawing, and he or she will contacted if their name is chosen. All donations will go to local children around the Permian Basin.
Begun in 1947 by Colonel William L. Hendricks, at the time a Major in the United States Marine Corps Reserve, the Marine Toys for Tots program has collected and distributed toys to needy children for more than 60 years and has drop-off locations in communities large and small all over the nation. Over 400 million toys have been distributed to more than 188 million less fortunate children since the program began. Toys for Tots was designated by the U.S. Secretary of Defense as an official activity of the U.S. Marine Corps and an official mission of the U.S. Marine Corps Reserve in 1995.
Although the toy drive ends on December 14th, staff members at the Art of Dentistry say the office will not close for the holidays until December 18th. Offering a range of dental procedures, such as teeth whitening, orthodontics, and porcelain dental veneers in Odessa, Texas, the Art of Dentistry will re-open on January 4th. The practice will also be reachable through an emergency phone number for those with any dental problems or concerns over the holiday break.
Staff members at the Art of Dentistry say they usually have a nice turn-out for donations to the Toys for Tots program, but they always hope they can do more. "It's a wonderful expression of care and concern for children that are in need."
About Dr. Robin Rutherford
Robin Rutherford, DDS has been featured in Consumer Research Council's Guide to America's Top Dentists in 2004, 2008, and 2009. He has also been voted the Best Dentist in Odessa by the Odessa American Readers' Choice poll. A native Texan, Dr. Rutherford graduated with honors from Texas A&M University and finished in the top quarter of his class at the University of Texas Dental School at San Antonio. He is a member of the American Dental Association, the American Academy of Cosmetic Dentistry, the American Orthodontic Society, and the Texas Dental Association. Dr. Rutherford is also a Fellow of the Dental Organization for Conscious Sedation, and a Fellow of the American Dental Implant Association. In addition to a comprehensive range of general and cosmetic dentistry, Dr. Rutherford also offers dental implants in Odessa for permanent replacement of missing teeth.
For more information on the Art of Dentistry's participation in the Toys for Tots program, or on dental care procedures offered by Dr. Robin Rutherford, the practice can be reached at 4712 E. University, Odessa, TX 79762 – (800) 55-GENTLE or (432) 367-0202. http://www.gentledentaldoc.com
###