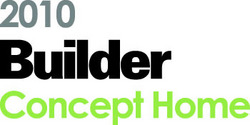 "Our goal this year is to respect and reflect what's going on in the housing industry right now and present what we believe is the model for the future," says BUILDER's editorial director Boyce Thompson.
Washington, DC (PRWEB) December 14, 2009
BUILDER, the number one information source for the home building industry, announces the launch of its 12th annual concept home and the first entirely virtual show home at the 2010 International Builders Show (IBS) in Las Vegas January 19-22.
The BUILDER Concept Home 2010: A Home for the New Economy exemplifies a dramatic shift in how homes are designed, built, maintained and lived in—and presented to the industry. With the housing market and general economy in flux, Marianne Cusato has designed a home that demonstrates the four key principles of housing's ultimate recovery: adaptability, sustainability, buildability and livability. Cusato, along with esteemed building scientist Mark LaLiberté, will illustrate what is working today, why it is working, and how these principles apply not only to professional builders, but also to homeowners nationwide.
"Our goal this year is to respect and reflect what's going on in the housing industry right now and present what we believe is the model for the future," says BUILDER's editorial director Boyce Thompson. "Building a large, luxury show home just to accommodate attendees during IBS wouldn't be very helpful to builders across the country who are searching for practical and profitable solutions."
The BUILDER Concept Home 2010 is an efficient, well-designed, 1,700-square-foot home with 4 bedrooms and 3.5 bathrooms that adapts to the homeowners' personal economy and changing lifestyle needs. For the first time in national show home history, the house will be open exclusively as an online virtual tour using photo-realistic renderings and state-of-the-art movie software that enables a customizable experience for each visitor. The online virtual tour and a content-rich web site will launch January 19, 2010 at http://www.builderconcepthome2010.com, in conjunction with the opening of IBS, allowing tours anytime, anywhere, including Internet-connected kiosks at the Hanley Wood booth (#C2128).
Whether among the 80,000 building industry professionals attending IBS 2010 or the millions of homeowners, builders and developers unable to travel to the annual convention, this Web site will serve as the platform for the BUILDER Concept Home 2010 as well as the definitive source for up-to-the-minute information about the annual IBS. The tour will remain live through June 30, 2010 and the web site is currently accepting pre-registrations for a "sneak peek" at exclusive content and the virtual tour experience prior to its public launch.
"I'm excited to be part of the most innovative home never built," said Marianne Cusato. "Now more than ever, as both an industry and a nation, we must examine how and what we build. It is our hope that this concept home will play a central role in this dialogue."
Project partners include Room & Board for furnishing and interior design and Christian Wagley and Kendall Horne for landscape design.
The home includes durable, sustainable products, materials and finishes by leading industry manufacturers, including:
Foundation Sponsors: American Standard, Andersen Windows, KraftMaid, Propane Education & Research Council and Whirlpool.
Supporting Sponsors: James Hardie and Lumber Liquidators.
Performance Sponsors: Broan, Crossville, DuPont Building Innovations, Inspire Roofing, Johns Manville, Kwikset, Roseburg, Schneider Electric, Sherwin-Williams, Timber Tech, Time Warner Cable and TruStile Doors.
Alliance Sponsors: Atlantic Premium Shutters, Beam by Electrolux, Clopay, Fiberweb/Typar, Generac Power Systems, Rinnai, Schulte and The Chamberlain Group.
About Hanley Wood
Hanley Wood, LLC, is the premier media and information company serving housing and construction. Through four operating divisions, the company produces award-winning magazines and Web sites, marquee trade shows and events, rich data and custom marketing solutions. The company also is North America's leading publisher of home plans. Hanley Wood Business Media (Washington, D.C.), publishes more than 30 award-winning residential and commercial construction titles, including BUILDER, REMODELING, CUSTOM HOME, and residential architect. Hanley Wood Business Media also offers the construction industry's foremost collection of Web sites, including BUILDER ONLINE, REMODELING ONLINE, and ebuild, the comprehensive online guide to building products, as well as the largest collection of house plans online through eplans.com and Dream Home Source.
Founded in 1976, Hanley Wood is one of the ten largest B-to-B media companies in the United States. Hanley Wood is owned by affiliates of JPMorgan Partners, which uses CCMP Capital Advisors to manage this investment. http://www.hanleywood.com
About Marianne Cusato
Marianne Cusato is well-known for her design work on the Katrina Cottages, now sold in kit form at Lowe's home centers nationwide. In 2006, her 308 s.f. Katrina Cottage won the Smithsonian Institute's Cooper-Hewitt Design Museum's "People's Design Award." In June 2006, Congress appropriated $400 million for an alternative emergency housing program, based on the idea of the Katrina Cottage. Cusato is the author of two books: Get Your House Right: Architectural Elements to Use and Avoid, with Ben Pentreath, Richard Sammons and Leon Krier, foreword by HRH The Prince of Wales (January 2008, Sterling Publishing) and The Value of Design (February 2008, James Hardie). http://www.mariannecusato.com
About Mark LaLiberté
One of the nation's foremost building scientists, Mark LaLiberté has devoted two decades to educating the homebuilding industry about the benefits of constructing durable, energy-efficient and healthier homes. He co-created the program curriculum for the Energy and Environmental Building Association (EEBA) Houses That Work™ program which is based on the U.S. Department of Energy's Building America Program, served in an advisory capacity on the EPA's ENERGY STAR® Program and the Minnesota Energy Code Advancement Project. In 2002, LaLiberté received a lifetime achievement award from the EEBA for his long-standing commitment to helping the home construction industry embrace building science.
LaLiberté has also served as spokesperson for the Ad Council's Energy Hog Campaign, TLC's "Home Pro" and "Home Savvy" series and the PBS "Hometime" series. He is the principal of Building Knowledge, Inc., based in Minneapolis and Denver. http://www.buildingknowledge.com
About Room & Board
For 30 years, Room & Board, a Minneapolis-based furniture retailer, has focused on offering great design that's beautiful, affordable and long-lasting. The company works closely with American artisans and family-owned businesses, and is proud that 85 percent of its products are American made. Room & Board works directly with furniture-makers – eliminating the middleman – to offer exclusive designs, the finest natural materials and the best value to customers. The company also makes it easy for customers to get a personal look that's perfect for any space. Room & Board sets the standard for custom, quality furniture options that aren't complicated. Customers can shop in stores, online or over the phone and receive the same great service from expert Design Associates. Room & Board has stores in Minneapolis, Chicago, Denver, Orange County, Los Angeles, San Francisco, New York and Atlanta. For more information, visit http://www.roomandboard.com or call 800-486-6554 to request a catalog.
About Christian Wagley
Christian Wagley is principal of Sustainable Town Concepts, a consulting firm dedicated to creating environmentally healthy places to live, work and play. He works with builders, architects, developers, and communities to create homes, buildings and landscapes that use less energy and water and are beautiful and durable. His services include green building certification, green development assessments and landscape consultation. He is a certifying agent for the Florida Green Building Coalition and a field agent of the Florida Solar Energy Center. http://www.sustainabletownconcepts.com
About Kendall Horne
Kendall Horne is a landscape designer specializing in creating low-maintenance, sustainable and native landscapes. Horne is currently the landscape coordinator for Alys Beach, Fla., a green neighborhood development located in the Florida Panhandle. She holds a B.A. in landscape architecture from Mississippi State University.
# # #