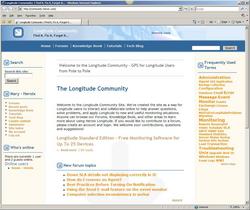 Now organizations of all sizes have access to the powerful yet easy performance monitoring software of Heroix Longitude.
Braintree, Mass. (PRWEB) December 15, 2009
Heroix, a leading provider of agentless application performance and network monitoring software, invites IT professionals to gear up for the new year with free, robust Longitude® agentless monitoring software packages along with the user forum, support, and resources available at the new Longitude Community Site.
"Now organizations of all sizes have access to the powerful yet easy performance monitoring software of Heroix Longitude," said Heroix President Rick Lane. "We've made our name in the enterprise by offering low acquisition costs, simple deployment, and immediate value. With these free software packages, every IT manager and administrator can start benefiting from Longitude."
Heroix is introducing the free versions of Longitude Standard Edition and Longitude Professional Edition along with the new Longitude Community Site, where IT professionals can interact and find answers to their questions, solve problems, and explore best practices. Anyone can browse the community forums, Knowledge Book, and more resources to get monitoring tips and learn about using Heroix Longitude.
Package Details
Longitude features an agentless architecture that enables comprehensive application performance and network monitoring and reporting, without the expense, complexity, system overhead, and management headaches that go with running agents on every server.
Longitude Standard Edition offers:

Operating system and infrastructure monitoring capabilities for up to 25 managed devices in the free version
Monitoring of Windows®, Linux®, and Unix® servers
Cisco® device monitoring
VMware® monitoring
Real-time Event Monitor
Statistics dashboard and interactive reporting
Email alerts
Corrective action capabilities
Longitude Professional Edition covers up to 5 devices in the free version. Professional Edition provides all the capabilities of Standard Edition, plus application monitoring of:

Microsoft IIS
Apache™ Web Server
Microsoft® SQL Server
Oracle®
MySQL™
Microsoft Exchange Server
DHCP
Active Directory®
Dell OpenManage™
HP Systems Insight Manager
IBM® Director
Also included are alert and action schedules, event escalation, and data export
More Resources
Compare features and download Heroix Longitude
Watch "Getting Started with Longitude" video
About Heroix
Heroix (http://www.heroix.com) delivers award-winning software products that help organizations optimize the availability and performance of applications, databases, systems, and IT infrastructure running across multiple platforms. Today, with a presence in over 40 countries, Heroix has delivered performance management solutions to over 1,000 organizations worldwide, including Fallon Clinic, Kaiser Permanente, Honeywell, Tembec, Motorola, Inc., and Young Broadcasting.
Heroix, Longitude, and their corresponding logos are registered trademarks of Heroix. All other company and product names mentioned are used only for identification purposes and may be trademarks or registered trademarks of their respective companies.
###