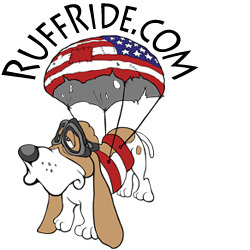 We've really managed to push the limits of both creativity and humor for this endeavor. We've created an altogether comedic and uplifting message offered at a reduced price point for those hard hit by the financial crisis
San Marcos, CA (PRWEB) December 16, 2009 - The Ruff Ride initiative is a brainchild project of co-
creators Shawn and Lynel Berryhill, each esteemed veterans within their respective professions.
She's a lean, mean, and hard hitting business barracuda, while he is best known for his collaborative efforts with the Wachowshi Brothers on the infamous "matrix" trilogy. Each has harnessed their personal talents to create a highly refreshing and wholly hilarious creation.
"Our primary aim is to lift the shattered spirits of those hit hardest by this recession" States Lynel. "Laughter replaces dread with hope, allowing us to see past the gloom that all too often prevents us from seeing creative solutions to even the most fearsome economic problems. America was founded on creative freedom, and it's this same freedom to passionately imagine and pursue solutions that is essential to digging ourselves out of our current economic rut. Laughter is more than an aid, we believe it is a critical catalyst to gaining triumph over any seemingly hopeless problem."
Ruff Ride was created with the goal of providing more than a simple motivational spurt, the initiative is concurrently aimed at providing aid to animals abandoned due to economic hardship during these trying times. The Ruff Ride Initiative encompasses a variety of relief programs that center on providing food, shelter, and new homes for the ever increasing number of unclaimed pets currently overrunning both the public and private animal shelters.
The Ruff Ride Initiative is presented in a variety of popular media offerings, from its cleverly engaging website packed with free offerings, to its polished and hilarious book, posters, calendars, and postcards. Throw in a good mix of social media outlets and even the most hardened recession stricken naysayers will have a very hard time suppressing their desires to break out in uncontrollable laughter.
For those desiring a breather from their recession woes who also adore adorable puppies, pay a visit to the http://www.RuffRide.com website.
PR Contact
Shawn Berryhill
Shawn(at)RuffRide(dot)com
(949) 683-6373
###