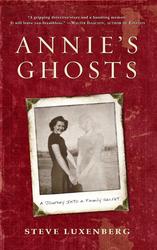 His story becomes a story that belongs to all of us.
Washington, DC (PRWEB) December 18, 2009
Steve Luxenberg's Annie's Ghosts: A Journey Into a Family Secret, hailed by author Walter Isaacson as a "gripping detective story and a haunting memoir," won national and regional honors this month. The Washington Post book editors selected Luxenberg's nonfiction work for its Best Books of 2009, and the Library of Michigan designated it a Michigan Notable Book for 2010.
Annie's Ghosts (published by Hyperion) is the eye-opening story of Luxenberg's search for the personal motives and cultural forces that influenced his mother's decision to create and nurture a life-long secret. Beth Luxenberg had always claimed to be an only child, but a chance mention led to the discovery that she had been hiding the existence of a disabled sister, Annie, who spent 31 years at a mental institution outside Detroit, where Luxenberg grew up.
As Luxenberg reinterpreted his family history, he discovered that there are thousands of families with similar stories of relatives once hidden away in mental institutions. The deeper he dug, the more he found himself in unfamiliar territory, struggling to balance his dual roles, the tenacious journalist and the empathetic son.
In selecting Annie's Ghosts as one of the year's best memoirs, The Post focused on Luxenberg's grace and care in researching and telling his story. The Post editors quoted from Barry Werth's review: "A probing, wise and affecting memoir of family secrets and posthumous absolution."
The Post compiled the Best Books list for its Holiday Gift Guide, offering suggestions to readers hunting for literary presents.
The Michigan Notable Book committee took special note of Luxenberg's ability to expand the story beyond his family, and praised the book's "complex blend" of personal and social history. "Despite the secrets," the committee's citation said, "Luxenberg's love of his family is clear. . . his story becomes a story that belongs to all of us."
The Notable Book award honors nonfiction and fiction books that employ "vivid storytelling" to draw portraits of the state and its people, said Nancy Robertson, the state librarian. Throughout 2010, the Library of Michigan will sponsor a statewide tour of the books, featuring author talks, book signings, and displays at libraries and bookstores.
Luxenberg, a Washington Post associate editor, employed the investigative skills that he had acquired during his 35 years as a journalist to recreate his mother's world at the time of Annie's institutionalization in 1940. He transports readers to imperial Russia and Depression-era Detroit, through the Holocaust in Ukraine and the Philippine war zone, and back to the hospitals where Annie and many others languished in anonymity. Annie died in 1972 after spending 31 years in an institution outside Detroit known as Eloise.
"Annie's Ghosts is one of the most remarkable books I have ever read," investigative reporter Bob Woodward wrote for the book's back cover. "From mental institutions to the Holocaust, from mothers and fathers to children and childhood, with its mysteries, sadness and joy—this book is one emotional ride."
Since its publication in May 2009, Annie's Ghosts has garnered critical praise. NPR's "All Things Considered" featured the book, and The Diane Rehm Show did an interview with Luxenberg (chosen for re-broadcast over the Thanksgiving weekend). Parade Magazine carried a Newsmaker Q&A with Luxenberg, headlined "How We Talk About Mental Illness."
In October, Luxenberg gave the keynote address to the National Alliance on Mental Illness's 5th annual Washington gala, "Unmasking Mental Illness." In his speech, "Losing an Identity, Finding a Voice," Luxenberg drew attention to federal and state privacy laws that often deter family members from obtaining the medical records of long-deceased patients.
"Privacy laws regarding medical records have done something quite rare—they have conferred rights upon the dead, rights with few limits, and these rights have created a serious imbalance between our understandable desire for privacy and our desire to be able to tell our own history," Luxenberg told the crowd of 400.
The Independent Booksellers Association picked Annie's Ghosts for its Fall 2009/Winter 2010 Recommendations for Reading Groups, one of three nonfiction books to make the cut.
Steve Luxenberg is available for interviews and speaking engagements. Topics include:
-- The nature and emotional toll of family secrets
-- Asylum life and the politics of both 20th and 21st century mental health care;
-- The nation's privacy laws and how they sometimes impede efforts to reduce the stigma surrounding mental illness
-- The investigative reporting process—teasing an entire story from one small clue.
About the author:
Steve Luxenberg has worked for The Washington Post for 25 years. Reporters working for Steve have won numerous awards, including two Pulitzer Prizes.
Links:
Additional information available on Steve Luxenberg's website: http://steveluxenberg.com/
An interview with Steve Luxenberg, conducted by Bob Woodward: http://fora.tv/2009/05/26/Bob_Woodward_and_Steve_Luxenberg
Steve Luxenberg's interview on the NPR's The Diane Rehm Show:
http://wamu.org/programs/dr/09/06/09.php
Contact information:
Gail Ross, Gail Ross Literary Agency
gail (at) gailross (dot) com
202-382-3282, x1329
Allison McGeehon, Hyperion Books
allison.mcgeehon (at) abc (dot)com
917-661-2054
Email for Steve Luxenberg
steve (at) steveluxenberg (dot) com
###