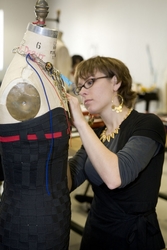 "Being a part of FIDM and majoring in Apparel Manufacturing Management is one of the vehicles that will help me attain my dream."
Los Angeles, CA (PRWEB) December 16, 2009
After graduating from U.S.C. with a degree in International Relations and Global Business and Marketing, Linda Tang began a career in sports marketing. But she wasn't happy. What she really wanted to do was launch her own fashion label, which was a dream of hers since high school. So this fall, Tang left her sports marketing position and entered Fashion Institute of Design & Merchandising's program in Apparel Manufacturing and Management. "I wanted to attend FIDM since I was 17," she explains. "Being a part of FIDM and majoring in Apparel Manufacturing Management is one of the vehicles that will help me attain my dream."
Tang joins a growing list of college graduates who, dissatisfied with their careers, have gone back to school at FIDM to study their real passion – fashion design. In fact, students with a range of college backgrounds and degrees make up 45% of FIDM's student community. And because many of FIDM's majors are Professional Designation programs that can be completed in only a year, the students can get back to the work force that much sooner.
While Tang looks to fashion school to help her launch a label, students like Karen Lacanilao simply want to explore their creative potential. After what she calls going "the normal route" with a B.A. in Communications from San Diego State University, Lacanilao worked in a traditional office job for four years and realized that it wasn't for her. "I want to be an artist," she says. "Fashion is art." Now enrolled in FIDM's San Diego campus as a Merchandise Marketing major, she encourages others to follow their dreams. "Don't think twice. I thought twice many, many times, and it has taken me too long to go after my passion. It is never too late to pursue your dream career."
Increasingly, though, a lot of workers are having the decision to leave their jobs made for them: they've been laid off. When Information Technology Consultant Kathleen Donohue was let go from her high tech job, she took it as an opportunity to re-evaluate her career track and think about what she really wanted to do. Even though she had worked in various financial and high tech companies, "none of them really made me excited," she says. Her real love was textiles and fashion design, and this fall she enrolled in FIDM's San Francisco campus as a Merchandise Product Development major. She's even found her previous background to be helpful. "I have a lot of experience in business operations," Donohue says. "Apparel product development is just creative enough to be exciting, but also builds on my existing work experience."
Confident in their new career paths, these back-to-schoolers have no regrets. Says Donohue, "I feel like with FIDM's resources, I can do just about anything I want to do."
With four dynamic California campuses, FIDM/Fashion Institute of Design & Merchandising is the premier west coast fashion school, educating for careers in fashion design, fashion merchandising, graphic design, interior design, and entertainment. FIDM's graduates include renowned fashion designers like Monique Lhuillier, Emmy® and Academy Award® award-winning costume designers, top fashion industry executives, and entrepreneurs.
###