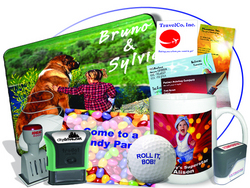 Photo gifts always make a lasting impression.
Redwood City, CA (PRWEB) December 12, 2009
iPrint Systems, Inc., a supplier of products to small businesses and consumers, has announced a new "Under $10" photo gift offering. This featured group expands the range of the online retailer's personalized photo gift groupings, already value-priced at under $15, under $20 and under $35. The company's website, http://www.iprint.com, consistently offers a broad array of personalized printed products.
"A special photo on a product creates a truly one-of-a-kind personalized gift and is a great way to celebrate family, friends, business clients, and professional associates," said Nickoletta Swank, general manager of iPrint. "Our customers tell us that photo gifts make a lasting impression."
The Under $10 holiday category for iPrint.com's personalized photo gifts starts at $3.49 for a full color bumper sticker; it also includes such photo gift favorites as an 11 oz. photo mug, child's t-shirt, or a child's puzzle. The Under $15 price range includes such popular holiday items as a latte-size mug, aprons, t-shirts, caps, mouse pads, and the 2010 photo calendar. Other seasonal favorites of consumers and small business buyers are travel mugs, coasters, sweatshirts, Disney photo plates, an Heirloom Plate made of white china with 24-karat gold trim, and even photo playing cards.
iPrint.com provides graphic support so that any visitor can design photo gifts of all types. The website's regular photo gift options' selection includes such unique items as teddy bears, watches for men and women, novelty ties, boxer shorts, keepsake ornaments, soap dispensers, puzzles for kids of any age, and edible photo chocolates, cookies and other treats.
To assist shoppers, iPrint.com features a holiday order and shipping timetable guide to help customers select the best method of shipping to ensure holiday gifts arrive on time.
About iPrint
Since 1996, iPrint Systems, Inc. has been providing small businesses and consumers with quality custom printing. Through its award-winning web site, iPrint.com, the online retailer provides 24-hours per day/seven-days per week ordering convenience, dedicated online support, easy customization options, and an extensive graphic library to support visitors in creating custom designs. In January 2009, iPrint.com became a division of Checks in the Mail, Inc., a wholly-owned subsidiary of Harland Clarke Corp.
# # #