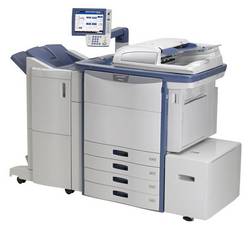 We are excited to announce this new partnership between Toshiba and Pharos, which allows our dealers to pair our award-winning MFPs with top-of-the-line asset management and cost recovery solutions
Irvine, California (PRWEB) December 14, 2009
Toshiba America Business Solutions Inc. (TABS) today announced the availability of new document output software solutions designed to work with all printing and multifunction devices sold by Toshiba - Pharos Blueprint® Enterprise and Pharos Uniprint® software from Pharos Systems International. Pharos Blueprint Enterprise helps cost-focused businesses track, monitor, audit and control print and copy expenses, therefore optimizing office administration performance, and reducing waste and overall expenses anywhere from 10 to 30 percent on average. In a typical corporate environment, it is estimated that printing expenses range from $650-$1,250 per employee per year.
Pharos Uniprint allows colleges and universities to recover as much as 30 to 50 percent of printing and copying costs, and reduce waste by 50 to 80 percent through monitoring, tracking and accounting features. Uniprint also is flexible in adapting to the individual characteristics of a host network, and supports the widest variety of devices and campus card systems to provide simple, automated and powerful campus print management.
Colleges and universities using Uniprint can encourage students to reduce printing by implementing a pay-as-you-print system, and account for and charge back departmental faculty and administration printing, or any combination in between.
"We are excited to announce this new partnership between Toshiba and Pharos, which allows our dealers to pair our award-winning MFPs with top-of-the-line asset management and cost recovery solutions," said Joseph Contreras, director, Product and Solutions Marketing, TABS. "While BluePrint Enterprise is an excellent and much-needed solution for general offices, UniPrint provides our dealers with yet another opportunity to speak to current and potential customers in the education vertical, who seek to reduce paper waste and printing costs."
Pharos Blueprint Enterprise shows businesses exactly what is being spent on document output and also provides valuable recommendations for measurable cost savings. Easily integrated into Toshiba copiers and MFPs, the software is engineered as a modular solution that can be tailored to meet the needs of each organization, offering the following components and key attributes:

Secure Release Here - Provides print security by releasing printing jobs from the printer only when the person who originated the job is physically present to pick up the document; unnecessary jobs are no longer automatically printed (and then either accidentally picked up by a colleague or tossed); and provides added flexibility and convenience as jobs can be "pulled" from any printer in the network.
Print/Copy Accounting & Departmental Chargeback - Monitors copying and printing by page, by user and by device for in-depth volume and cost reporting; manages accounting down to the employee level and allows for charge-backs by employee, budget center or department; and shifts responsibility for the expense to the people with the ability to control it.
Policy Print - Empowers employees by educating them on the spot about the optimal
printing choices and informs, warns or denies print requests based on the company or group parameters.

Fleet Optimization - Provides a comprehensive overview of print and copy spend and device usage.
The Pharos solutions for the full line of Toshiba copiers, printers and MFPs can be purchased through local Toshiba authorized dealers. Visit copiers.toshiba.com to search for an authorized Toshiba dealer by location.
About Toshiba America Business Solutions Inc.
Toshiba America Business Solutions Inc. (TABS) manages product planning, marketing, sales, service support and distribution of copiers, facsimiles, multifunction printing products, network controllers, and toner products throughout the United States, Mexico, Brazil, Latin America, and the Caribbean. Headquartered in Irvine, Calif., TABS has five divisions: the Electronic Imaging Division; the Toner Products Division; the Document Solutions Engineering Division; the International Division; and Toshiba Business Solutions (TBS), a wholly-owned subsidiary corporation of TABS, that operates a network of wholly-owned office equipment dealers throughout the United States.
Named the most favored manufacturer ten times by the Business Technology Association (BTA), Toshiba's entire product line, customer support and marketing distribution policies are markers for the industry. Among the many other awards garnered in recent years, Toshiba was named the "Manufacturer of the Year" eight times by Marketing Research Consultants (MRC), and has twice been named to the CIO 100 for being among the top 100 "bold" (2008) and "agile" (2004) companies in the world.
TABS is an independent operating company of Toshiba Corporation, the seventh largest electronics/electrical equipment company and the world's 97th largest company in terms of sales. Ranked by Fortune magazine as the eighth Most Admired Electronics Company in the World, Toshiba Corporation is a world leader in high technology products with more than 300 major subsidiaries and affiliates worldwide. Fiscal year revenue in 2008 was approximately $67.9 billion.
For more information on Toshiba copiers, facsimiles, multifunction printing products, network controllers or toner products, or for a dealer in your area, call (800)-GO-TOSHIBA or visit the TABS Web site at copiers.toshiba.com.
About Pharos Systems International
Pharos Systems provides powerful and innovative print management software and services to corporations, educational institutions, and libraries across the globe. Our solutions save customers money, reduce waste, and make it easy to secure devices and documents. Pharos was founded in 1992 with Corporate headquarters in Rochester, NY. For more information, visit http://www.pharos.com or call 888-864-7768.
# # #