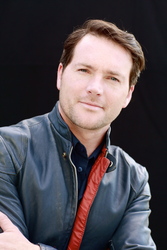 Its a thrill working for Jerry Bruckheimer. He's the man behind the biggest television dramas in the world. Lets hope I make it to his movies.
Beverly Hills, CA (PRWEB) December 14, 2009
For British performer Peter O'Meara 2010 is already lining up to be a big year for handsome Irish charmer. On January 5th O'Meara stars on the hit ABC Jerry Bruckheimer television drama 'The Forgotten' with Christian Slater, followed soon after by his silver screen turn with Amy Adams and Mathew Goode in 'Leap Year' shot on location in his Native Ireland earlier this year.
Romantic comedy fans will recognise Peter as Justin Longs' pal Bill from Warner Bros mega hit He's Just Not That Into You starring Jennifer Aniston. "I had such a great time on that movie. You haven't lived until played quarters with Scarlett Johansson in a Baltimore hotel room at three in the morning. What made it really special was the night security threatening to throw us into the street because the noise. Its hardly surprising considering the company we were in. Kevin Connolly, Jimmy Fallon and the lovely Jinnifer Goodwin. Very fun people to be around."
What can we expect from The Forgotten on ABC?
"Expect the Jerry Bruckheimer magic. He's the man behind the worlds biggest hits. Its like that we're on ABC. That's where I filmed Alias. A great show. I had to rescue Jennifer Garner from a burning car and then attempt to kill her. Very romantic. A bit like the Tiger Woods case only in reverse,"jokes O'Meara."Unlike a lot of people I don't blame Tiger Woods for his current woes. I blame golf. Its a dangerous sport. How can those women be expected to resist so much plaid."
Are you making a new years wish?
"Well, I loved the David Benioff script for Game of Thrones. His 'City of Thieves' is my favorite novel of the last ten years. So,Fingers crossed. "
Peter O'Meara is an award winning performer best known for his memorable performance as Lt Norman Dike on the HBO Tom Hanks/ Steven Spielberg epic mini series 'Band Of Brothers'.
# # #