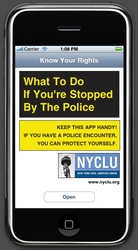 Even those who [know their rights] may have trouble asserting them confidently and correctly in the heat of the moment.
Mount Kisco, NY (PRWEB) December 16, 2009
WeComply Inc., a leader in web-based compliance training for corporate employees, has added a free iPhone app to its product line. WeComply's new "Know Your Rights" is a pocket guide for understanding what to do if you are stopped, arrested or injured in an encounter with the police. The app is based on a pamphlet published by the ACLU Racial Justice Program, ACLU National Security Project, ACLU Immigrants' Rights Project, and the ACLU of Southern California.
The "Know Your Rights" app is the latest in a series of innovative compliance-training products from WeComply. WeComply introduced PDA-based training in 2002, "podcasted" training in 2005 and telephone-based training in 2006. All of WeComply's 40+ programs train employees on policies and applicable laws in an effort to help organizations avoid and detect illegal and unethical behavior.
David Simon, WeComply's President, believes that as people continue to look to their phone for more content and computer-like functionality, it makes sense to have information at hand that you can use in emergencies — when you can't look up the answer on Google. "Many people don't really know and understand their constitutional rights," he said, "and even those who do may have trouble asserting them confidently and correctly in the heat of the moment."
The app covers the following topics in a concise question-answer format:
1. Overview of what to do if you're stopped by the police
2. What to say and do in any police encounter
3. If you are stopped for questioning
4. If you are stopped in your car
5. If police come to your home
6. If you are arrested or taken to a police station
7. How to file a police misconduct complaint
The app includes the option to record the officer's name and badge number, names and notes regarding witnesses, and your own incident notes. It is available free of charge on Apple's iTunes store (http://itunes.apple.com/us/app/know-your-rights/id304017928?mt=8).
About WeComply
WeComply offers more than 40 online training programs on a broad range of compliance topics, including Code of Conduct, the Sarbanes-Oxley Act, Antitrust, Privacy, the Foreign Corrupt Practices Act, and Insider Training. WeComply is the Association of Corporate Counsel's "alliance partner" for online compliance training. WeComply's training programs are in use by numerous large and small companies worldwide. More information is available at http://www.wecomply.com or by calling 1.866.WeComply.
# # #