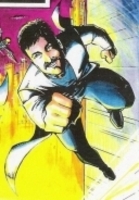 MLM Superhero helps Network Marketers generate an endless supply of targeted leads and add 20 to 30 new reps to their businesses each month.
(PRWEB) December 14, 2009
It's a Bird....It's a Plane. No! It's MLM Superhero!
Just when you thought there was nothing more than a box of Kleenex and two more servings of rejection for Network Marketers around the world, MLM Superhero is about to save the day with the launch of their NEW personal branding and global lead generation system for the MLM Industry.
MLM Superhero was launched specifically to help average Network Marketers and Entrepreneurs achieve above average results – some industry leaders would go as far as calling the results "Superhero status".
Where most Network Marketers are taught to make a list of their friends and family and are forced to endure massive amounts of rejection, MLM Superhero helps affiliates fight back by teaching REAL MARKETING Strategies, Attraction Marketing Techniques, Personal Branding, List Building, and online Relationship Building Strategies that help to create multiple streams of income.
Industry statistics show that 99% of all affiliates that join a Network Marketing company that use conventional business building strategies consisting of hotel meetings, 3 way calls and conference calls never make it to the top. Most affiliates quickly run out of quality leads to talk to and with very little real marketing training, most seldom ever achieve bottom line success. As a result, most affiliates end up quitting the industry completely.
As part of their personal mission to combat these staggering Network Marketing industry statistics, each week MLM Superhero will feature LIVE WEBINAR training events with top Network Marketers and Network Marketing industry professionals from around the world. MLM Superhero promises its customers that their phones will be ringing with incoming calls once they complete the MLM Superhero training.
Each training event will be designed to focus on one or more specific online and/or offline marketing strategies. These strategies will assist Network Marketers and Entrepreneurs to achieve maximum results in lead generation as well as add positive cash flow to their bottom line each month.
MLM Superhero teaches Network Marketers and Entrepreneurs how to make money fast, even if nobody joins their primary business. They also teach affiliates how to become so irresistible, that prospects start picking up the phone with credit card in hand wanting to join their business.
To find out how you can reach "Superhero status" in your business with this revolutionary lead generation and personal branding system for the Network Marketing Industry, call Darren Little at 604-771-1901.
###