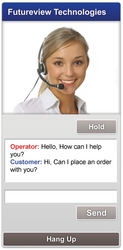 "One of the visions I had for this company when we started, was to try bring another level of personal service to online customers" said Jason Pace CEO of FutureView Technologies. "With this latest release of InterActive OperatorTM you can now reach out t
Houston, TX (PRWEB) December 14, 2009
InterActive Operator™ provides a service to enable companies to easily connect directly to customers, breaking through the impersonal barrier of a website. People like to be helped by people. Face to face video conversations with company representatives give customers the personal assistance they need to feel confident completing transactions. Personal face to face video chat builds loyalty, brand distinction and the enhanced customer experience that leads to future transactions. Now any company can easily create and manage direct video chat portals in any website without downloading software or installing equipment.
One of the greatest problems facing internet retailers and service providers is site abandonment. When visitors browse a website only to stall on a page, abandon a shopping cart or leave the site, companies have no recourse and may or may not know why visitors leave. InterActive Operator™ gives any company the ability to initiate contact with visitors before they leave with configurable timer or activity triggers that launch a live video chat. Using InterActive Operator™ any company can now actively initiate a video dialogue with customers to assist them in completing the sale.
"One of the visions I had for this company when we started, was to try bring another level of personal service to online customers" said Jason Pace CEO of FutureView Technologies. "With this latest release of InterActive Operator™ you can now reach out to your customers and invite them to engage in a live video dialogue that lets them know you value their business thereby increasing your online conversion rate and establishing better customer loyalty."
InterActive Operator™ video dialogue increases trust, closes sales and provides superior customer service or sales support. Company agents communicating with customers through video chat truly hear the voice of the customer beyond traditional media and even social media. Customers can return to the same agent if desired creating a stronger personal connection and brand loyalty. Any sized business or agency can now offer superior customer experiences with FutureView's easy to use communications suite.
About FutureView Technologies
FutureView Technologies is a global leader in video agent technologies and services that enable enterprises to easily create more personal, profitable sales and customer service relationships. All of FutureView's products are patented or pending patent approval, based on our proprietary, IP-based video development toolkit. FutureView Technologies Global Headquarters is in Houston, Texas. Other locations include, Glasgow, Scotland; London, England and Washington D.C. For more information about the InterActive Operator system visit - http://www.futureviewtech.com.
# # #