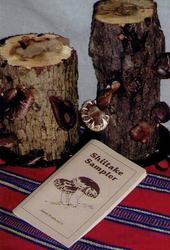 Most people have never tasted shiitakes grown on logs cut from hardwood trees... Shiitake logs make unique, long-lasting gifts for gardners and gourmands.
Perkins, OK (PRWEB) December 15, 2009
When two shiitake logs get together to do what they do best, they do it even better.
That's the word from Lost Creek Mushroom Farm, where shiitake farmers Doug and Sandra (pronounced Sondra) Williams are shipping out shiitake mushroom log kits for holiday gifts.
"It's true," according to Doug, "the logs grow more mushrooms when they are with other logs than when they stand alone. It's really interesting."
From Sandra: "That's because they're social. Mushrooms are closer to animals than to plants, and they like being together. When they're ready to produce, they release pheremones that stimulate nearby logs to 'fruit' too. More makes more."
The Williams' had been selling single logs, which grow shiitakes every other month, before they developed the Ma and Pa Kit. Their idea was to create a way for people to harvest fresh shiitakes every month by alternating the producing log. Doug noticed with the Ma and Pa Kits what he'd already observed in Lost Creek's greenhouses, "put two together and get more mushrooms."
Shiitake logs grow indoors like plants or outdoors in shade. "At first they grow only a few mushrooms, but they'll produce increasingly larger crops as they mature, tapering off in the third and fourth year," according to Doug, who has been growing shiitakes since 1985.
"Most people have never tasted shiitakes grown on logs cut from hardwood trees," Sandra explained. "These shiitakes are very meaty and have a deep, rich flavor that absorbs the flavors of other foods they're cooked with, such as garlic, wines, herbs and fruits. I like them sauteed and simmered in jam."
Growing the mushrooms requires soaking the log in ice water. Harvest follows in 6-10 days. Ma and Pa Kits include two 9-10-inch logs, plus instructions and recipes. The logs are fully guaranteed.
A unique, long-lasting gift, their Ma and Pa Kit sells for $47.50, including shipping. Sandra, who gets bored with repeating the same tastes and textures, recommends including Janet Bratkovich's Shiitake Sampler Cookbook ($7.95) with 51 recipes, "to add spice and variety to cooking up those home-grown shiitakes -- for years."
In addition to the Ma and Pa Kits, Lost Creek Mushroom Farm has several sizes of logs. Prices range from $16.95 for a 'Shroomie to their $76 Best Buy: two 14-inch kits with trays, including shipping. "The Best Buy is my favorite," Sandra confesses, "because you can grow them like a giant Ma and Pa Kit or give one away and keep one for yourself. It's a savings of $12, a pretty good deal."
To order go to http://www.shiitakemushroomlog.com or phone 800-792-0053. Lost Creek Mushroom Farm donates a portion of sales to Mushrooms in Ghana, their project to promote mushroom cultivation as a means of alleviating poverty for small-scale farmers in West Africa.
###