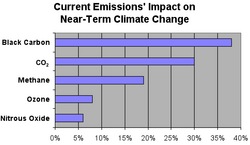 "The Chinese produce so much soot and ozone, they could meet virtually any treaty obligation if these two powerful agents of climate change were included."
Menlo Park, CA (PRWEB) December 14, 2009
Silicon Valley venture capitalist Elton Sherwin in his new book, Addicted to Energy, claims that reducing soot and smog are key to affordably protecting the planet from rapid warming and vital for reaching an agreement with China. Drawing on research from U.C. Berkeley, Stanford and the Scripps Institution of Oceanography, Sherwin says that reducing non-CO2 greenhouse agents is faster and cheaper than reducing CO2. "We still need to dramatically reduce CO2 in the U.S. and China, but reducing soot and smog is a quick, affordable way to work together and lessen the likelihood of crossing a major climate threshold or tipping point."
"By lowering soot and smog emissions, the Chinese can make a major positive contribution," says Sherwin. "There is reluctance to discuss this because it might slow progress on CO2. But the impact of soot and smog are so great they cannot be ignored. They are comparatively less expensive to mitigate and they provide an opportunity for the Chinese to meet or exceed western reductions without having to slow their economic growth."
Smog contains several potent greenhouse agents. Soot contains large amounts of black carbon. One U.S. House of Representatives report says that reducing black carbon alone "will immediately slow global warming."**
A recent article published in Foreign Affairs, co-authored by one of the world's leading climate scientists, says, "Fully applying existing emissions-control technologies could cut black carbon emissions by about 50 percent. And that would be enough to offset the warming effects of one to two decades' worth of carbon dioxide emissions."***
Sherwin uses an intriguing analogy:
"Image you inherit a home and discover the attic packed full of dynamite, blasting caps and fuses. What does the local bomb squad do? They remove the fuses and blasting caps first, and then the dynamite."
In Sherwin's analogy, CO2 is the dynamite, but soot and smog are the fuses and blasting caps – the first priorities.
Continuing the analogy Sherwin says, "The house is a metaphor for our planet and we are living in one room and the Chinese are living in another room. We can argue with the Chinese about who is most responsible for the mess in the attic for another decade or two and pass the problem to our children. But by then it may be too late. We need to clean up the attic now."
Sherwin says that the U.S. and China should jointly lead a worldwide crash program to reduce soot and tropospheric ozone (one of the key components in smog) while simultaneously reducing CO2 emissions. He says, "Filters that trap soot should be an immediate priority. This is too big an opportunity to ignore."
He continues, "The Chinese produce so much soot and ozone, they could meet virtually any treaty obligation if these two powerful agents of climate change were included."
Sherwin adds one word of caution, "The Chinese also release vast quantities of reflective particles into the atmosphere mixed together with their soot. Today, these reflective particles protect the earth, and it is critically important that they continue this practice while filtering out the black carbon." Sherwin adds, "It is imperative that we accurately account for all these particles and take actions that really protect the climate."
About Elton Sherwin:
Elton Sherwin is a venture capitalist and the Senior Managing Director at Ridgewood Capital, where he invests in private energy-tech and clean-tech companies. He holds eight patents and sits on the boards of several clean-tech companies. His widely acclaimed first book, The Silicon Valley Way, was translated into Chinese, Japanese, Spanish, and Korean. Published in 1998, it continues to be used by entrepreneurs and universities around the world.
About Addicted to Energy:
Written as a guidebook to a fictional governor, Addicted to Energy gives advice on how to manage both the climate and energy crises. The book outlines practical steps that governments, businesses, and individuals can take to lower their energy consumption. Complex topics are presented in simple, understandable, and sometimes amusing ways. Short and to the point, the author makes over fifty recommendations; most are shorter than three pages. The book contains many charts and graphs, as well as practical tips for homeowners, businesses, and local governments.
Media contact:
Katharine Brewer
Energy House Publishing Group
Website: http://www.EnergyHousePublishing.com
** "Hearing Examines Black Carbon and Global Warming." From the Committee on Oversight and Government Reform, U.S. House of Representatives.
*** "The Other Climate Changers: Why Black Carbon and Ozone Also Matter," Jessica Seddon Wallack and Veerabhadran Ramanathan, Foreign Affairs, September/October 2009 Issue.
###