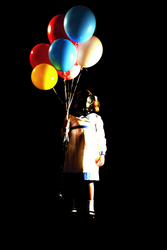 In 1951 at Fort Detrick, Maryland, construction crews built a hollow metal sphere four stories high. Inside germ weapons were to be exploded, creating mists of infectious aerosols for testing on animals....and people. Employees called it the eight ball.
New York, NY and Hollywood, CA (PRWEB) December 15, 2009
Andalusian Dogs and J.B. Virtual Enterprises Inc. announces the World Premiere Theatrical Release of the revealing documentary "Under The Eightball" on Wednesday December 16 in New York City, NY and Friday December 18 in West Hollywood, CA.
Where: IFC Center 323 Sixth Avenue at West Third Street NY,NY 10014
When: Run to begin Wednesday, December 16, 2009
Who: Directors and Producers Timothy Grey, Breanne Russell and Rasheed Ali will be in attendance
Contact: 212-924-7771 or go to: http://www.ifccenter.com
Where: Laemmle's Sunset 5 8000 Sunset Blvd. West Hollywood, CA 90046
When: Run to begin Friday, December 18, 2009
Contact: 323-848-3500 or go to: http://www.laemmle.com/viewtheatre.php?thid=2
The revolutionary, independent documentary 'Under The Eightball', chronicles investigative journalist Lori Hall-Steele's battle with Lyme Disease as her brother, director Timothy Grey, and friend, Breanne Russell, set out on a mission to uncover Lyme Disease's illusive and often misunderstood origins.
The filmmakers were, immediately confronted with a medical industry marked by ambivalence, a government steeped in corruption and greed, and a debilitating and deadly disease that traces back to the Plum Island Animal Disease Center, Grey and Russell hold fast, hastened to save Lori's life.
"'Under The Eightball' promises to become a paradigm shifting event for many of its viewers," says Grey.
In their eighteen month long journey Grey and Russell travel the country in search of answers and interview top experts in the world of Lyme and Tick-Borne Diseases. 'Under The Eightball' includes live footage, historical documents, original animation and archival military footage.
The movie was produced by Michigan based film company Andalusian Dogs and was written, directed and edited by Timothy Grey and Breanne Russell. Executive producers are Justin Blake, Rasheed Ali and Dorel Nichefor.
This film has not been rated.
'Under The Eightball' has a run time of 125 min.
http://www.undertheeightball.com
###