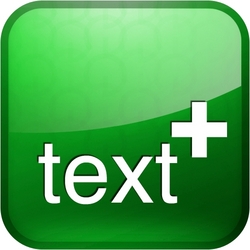 Marina del Rey, CA (PRWEB) December 14, 2009
GOGII, Inc. takes another giant step toward revolutionizing the way people text today by making it possible to reach out to and communicate with up to 50 people at a time using a single free text message. The company's flagship next generation texting application, textPlus, now lets users create "personal communities" that can be reached in a moment's notice via text - today's most ubiquitous mobile communication mode.
"People have used email group messages, listserves and the 'reply all' features on email to coordinate organizations and groups for years," said Scott Lahman, CEO and Co-Founder of GOGII. "But the fact is emails aren't received or read as quickly as text messages. We're bringing email-like functionality to texting so that every member of every work softball team, soccer parent group, high school clique, book club or Saturday night bar crawl can be reached in an instant."
iPhone and iPod touch users can download the free textPlus 2.1 app from the Apple App Store, then become "community managers" by creating names for their various groups within the app. A community manager can invite up to 50 members to join a group (members don't need to have the app or use an iPhone - they simply need to have a phone that is text-enabled), and send one text to the entire community name to initiate a conversation. In textPlus's chatroom-like environment, everyone in the group receives the text and everyone sees all the replies.
"All too often when you're communicating with a larger group, there's at least someone who 'didn't get the voicemail' or 'didn't see the email,'" added Lahman. "Our new technology aims to eliminate that frustration. What's more, it streamlines the process for organizers who may be sending out dozens of texts trying to reach everyone."
textPlus can save communities time and money. It only takes one single text message to reach up to 50 people, and while non-app community members get charged normal message rates for sending and receiving a message within their groups, they only need to send one text to reach everyone - not 50 individual messages.
The "personal communities" capability is the latest in a series of recent moves at GOGII to take texting to a new level. In June, the company launched textPlus, its rich, engaging app environment for instant, free sponsor-supported, unlimited group text conversations. This November, textPlus debuted username "text addresses," which gave non-app users in the U.S. the ability to start text conversations with their friends using textPlus simply by texting a friend's username to 60611 and users worldwide to send messages app-to-app anywhere in the world for free. textPlus will soon be available on Android Market.
textPlus has changed how millions of people around the world use text. To date, the textPlus app has already seen almost 3 million downloads, reaching over 9 million people, with over 300 million messages sent using the service since June. And while only the top 5% of applications in the Apple App Store reach 100,000 unique monthly visitors, textPlus quickly exceeded that by over 7 times in its second month of release.
Last week, GOGII, Inc. announced an $8.2 million Series B round of funding from Matrix Partners and Kleiner, Perkins, Caufield & Byers.
About textPlus
textPlus (http://www.textplus.com) leverages GOGII's next generation text messaging platform to bring free, ad-supported one-to-one and group texting, and enables seamless interaction between textPlus users and their friends using regular text messaging (SMS). The service is currently available on the iPod touch and iPhone.
About GOGII (go-jee)
GOGII provides customers the next generation of text messaging through its flagship product, textPlus, the leading feature-rich and fun third-party text messaging application.
GOGII, Inc. is backed by venture capital firms Matrix Partners and Kleiner Perkins Caufield & Byers' iFund, which is exclusively focused on developing applications for Apple's products. GOGII, Inc. was founded in 2008 by the three founders of JAMDAT Mobile, the leading mobile entertainment publisher that was acquired by Electronic Arts in 2006.
###