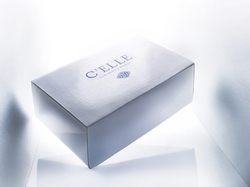 MS APOTHECARY is about products that really perform.
New York, NY (PRWEB) December 16, 2009
The holidays are rapidly approaching and what kind of gift does a person get that special woman who has everything? Why stem cells, of course!
Mary Schook, named "Beauty Trailblazer" by Marie Claire magazine, is launching a remarkably unique online beauty store called MS APOTHECARY. MS APOTHECARY and their testers sift through hundreds of thousands of beauty products in hot pursuit of the best beauty items available to the consumer. In this economic climate who can afford to figure it all out for themselves?
But why would someone want to gift their girlfriend or sister stem cells?
Every woman wants to look and feel beautiful and beauty begins from the inside out. Stem cells are an enormous part of the future of health and beauty. That is why Mary Schook decided that C'ELLE® was the perfect item to launch MS APOTHECARY with.
C'ELLE®, a revolutionary service that empowers women to take charge of their future health and beauty, allows for the collection and preservation of their precious stem cells.
With C'ELLE's® exclusive process and step-by-step instructions, any woman experiencing menstruation can easily and painlessly gather her own stem cells in the comfort of her own home. In the future, these cells may be the basis of medical treatments for threatening diseases, personalized cosmeceuticals and regenerative medical procedures, providing the potential for living a longer, healthier life.
When it comes to making major life decisions, there is no time like the present. And when it comes to something as important as collecting potentially life-saving stem cells found naturally in menstrual blood, the ideal time is now. Thanks to C'ELLE's® patent-pending technology, and easy-to-use collection kit, you have the reassurance and peace of mind you need.
Happy Holidays and welcome to the future of Beauty!
###