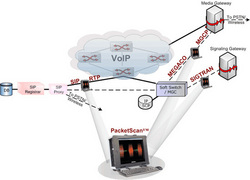 GL's PacketScan™ is a real-time IP/VoIP analyzer that non-intrusively analyzes and captures live IP traffic, and segregates them into SIP / H323 / Megaco / MGCP calls
Gaithersburg, MD, USA (Vocus) December 15, 2009
GL Communications Inc. announced today the release of enhanced Packetscan™ software, an IP/VoIP Analysis Tool. Speaking to reporters, Mr. Karthik Ramalingam, Project Manager said, "GL's PacketScan™ is a real-time IP/VoIP analyzer that non-intrusively analyzes and captures live IP traffic, and segregates them into SIP / H323 / Megaco / MGCP calls". He added, "It also collects statistics, produces CDRs, displays detailed protocol traces, displays ladder diagrams, and a host of other useful information about VoIP calls".
Mr. Ramalingam further added, "Applications include monitoring of IP phones, Gateways, IP Routers, Switches, and Proxies. Its real-time nature makes it an outstanding tool for live monitoring of VoIP traffic as well as long-term traffic statistics gathering". He added. "PacketScan™ can also monitor, report, analyze, and capture calls for infinite time, limited only by the finite space of your hard disk or network hard drive!".
Summary of the New Features:
•SIP Performance Metrics
Additional SIP performance metrics have been provided in statistics counters for SIP calls and are: Session Establishment Ratio, Session Establishment Effective Ratio, Session Defects, Ineffective Session Attempts, Session Completion Ratio, Session Request Delay, and Session Disconnect Delay.
•Call Summary Tab
In Packet Data Analyzer (PDA) portion of PacketScan™, a new tab has been added that displays Signaling and Audio Parameters for the selected call (SIP, H323, MEGACO Calls).
•Save Call
Save Call feature has been enhanced to save the captured trace along in a PCAP compatible file format.
•Alert Summary
PacketScan™ has been enhanced to generate alerts when a particular vital parameter goes beyond a specified value. The user can specify the criteria based on which the alerts are to be generated. The alerts can be set by selecting an option in Alert Summary and in Triggers and Action Settings.
Alert Summary tab provides summary of the each alerts that have occurred during the analysis. Each summary has the following columns: Call#, Protocol, Message, Type, Threshold, Value, Caller, Callee, CallId.
•T.38 Analysis
T.38 has been enhanced to reassemble the fragmented data and to identify the T.30 message from it. Identified T.30 message is displayed in the T.38 ladder diagram.
•VQMon Setting
VQMon Setting is enhanced with an option to select the Japan or North America International standard code. These standards are followed in calculating MOS scores based upon R-Factor scores.
About GL Communications Inc.
Founded in 1986, GL Communications Inc. is a leading supplier of test, monitoring, and analysis equipment for TDM, Wireless, IP and VoIP networks. Unlike conventional test equipment, GL's test platforms provide visualization, capture, storage, and convenient features like portability, remotability, and scripting.
GL's TDM Analysis & Emulation line of products includes T1, E1, T3, E3, OC-3, STM-1, analog four-wire, and analog two-wire interface cards, external portable pods, and complete system solutions. Capabilities include voiceband traffic analysis and emulation across all traffic types (voice, digits, tones, fax, modem), all protocols (ISDN, SS7, GR-303, Frame Relay, HDLC, V5.X, ATM, GSM, GPRS, etc.), and with capacities up to thousands of channels.
GL's VoIP and IP products generate / analyze thousands of calls / traffic simultaneously with traffic types such as frames, packets, voice files, digits, video, tones, noise, and fax using G.711, G.729, AMR, EVRC, GSM and a range of other codecs. Additional features include visual analysis, real-time listening, and recording. The product line also includes Ethernet / IP Testing capability that simulates and checks frame transport and throughput parameters of Ethernet and IP networks, including delay, errors and other impairments.
GL's Voice Quality Testing (VQT) product line complements all of GL's products. Using ITU-standard algorithms (PAMS, PSQM, and PESQ), GL's VQT provides a widely excepted solution across the telecom industry. Voice Quality Testing across multiple networks (T1, E1, T3, E3, OC-3, VoIP, Wireless, and Landline) are all available.
GL's Wireless Products perform protocol analysis and voice quality assessment on GSM, CDMA and UMTS networks. Connections can be made to any wireless phone with automated call control, GPS mapping and real-time signal measurements.
GL's Echo Canceller testing solutions provide the broadest range of simulation and analysis, including compliance testing per G.168 and G.160 across TDM, IP, VoIP and Wireless networks. GL's wireless VQT solutions help assessing impairments to voice quality such as poor mobile phone quality, voice compression and decompression algorithms, delay, loss and gain in speech levels, noise, acoustic and landline echo, and other distortions are easily assessed and accurately measured.
GL's Handheld data testers can test a wide variety of communications facilities and equipment including T1, fractional T1, E1, fractional E1, T3 and E3 modems, multiplexers, CSU, DSUs, T1 CSUs, DTUs, NTUs and TIUs and more. The testers provide convenience, economy, and portability for almost any interface, including RS232, RS-422, RS-530, X.21, T1, E1, T3, E3, and many others.
GL's Network Surveillance and Monitoring products include Probes for TDM, IP, VoIP, ATM, and Wireless networks. An open standards based approach provides a scalable, feature rich, real-time access to network intelligence. Centralized or distributed access, efficient transport and database loading allow compatibility with 3rd party and standards based monitoring systems.
###